Slatten and Horyna Lead Liberal at State
Brock Kappelmann - October 31, 2016 6:36 am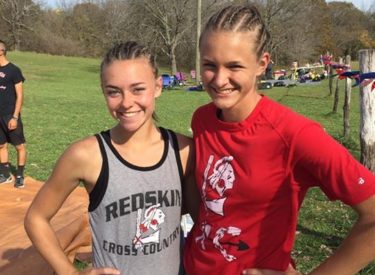 What a difference a year makes. Last year at the state meet the Redskins competed on a day
that saw temperatures in the 30's and snow flurries. This year as the Redskins competed at the KSHSAA
5A State Championship in Lawrence, Kansas they not only had to focus on the hills that Rim Rock has but
they competed in 86 degree temperatures and winds up to 20 mph.
Sophomore boys Xavier Perez, Antonio Borunda, and Javier Carrillo all competed at the State
Championships for their first times. Perez in his first season of running continued to improve all the way
up to the last race of the season. Perez finished the race in 49th place with his time of 17:32. Borunda's
time of 18:03 was good enough for 70th in the State. Carrillo placed 76th with a time of 18:10.
The Redskins will look to build on the success they had this year with a young team. The Redskins will be
bringing back their entire top 10 from this year's team.
As the state meet marked the end of one Liberal standout runner, it also marked the beginning
of another bright future. Senior Camryn Slatten completed her third All-State performance running to
her best finish of her career at the state meet finishing in 6th place with a time of 19:57. Freshman Katie
Horyna didn't let the nerves of the large meet get in her way as she ran to a 7th place finish in a time of
20:05. Horyna was the first freshman to cross the finish line in class 5A. Slatten and Horyna's
performance earned them both All-State honors. Seniors Saw Ahmara and Yanelly Jurado finished in 52nd
and 55th with times of 22:15 and 22:20. Juniors Alondra Alvarado and Kelsey Ramsey were the 67th and 78th
runners with times of 22:45 and 23:21. Freshman Erika Valverde completed the course in 24:17
to finish in 87th place. The Redskins finished with 153 points on the day to place 6th in the State. St. Thomas Aquinas
won their 5th consecutive State Championship scoring 40 points. St. James Academy was 2nd with 54, and Mill Valley was 3rd
with 113. The Redskins will be losing three seniors from their
varsity seven but will be bringing back a good core of youth to look forward to next season.
Several Redskin runners from both the boys' team and girls' team will continue their hard work
as they are planning to compete in the Youth National Championship in Evansville, Indiana on November 19th.
Tyson McGuire