Skins Win Double Overtime Thriller in Garden City
KSCB News - January 13, 2016 7:52 am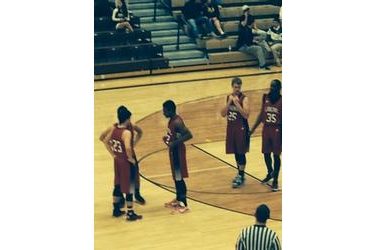 You didn't think it would be easy did you? Liberal hadn't won in Garden City since 2009, and despite leading by nine in the first half and six in the fourth quarter, Liberal had to fight through two overtimes for a 67-64 win in the Garden. Garden City's Jared Koster hit a guarded fade away 30 footer to tie the game in regulation and send it to overtime. Tim Fitzgerald hit a key three pointer to begin the second overtime and send LHS on their way.
Liberal won despite shooting 37 percent from the field, 4-18 from three point range, and 17-29 from the foul line. Garden was 8-25 from three point range and 9-15 from the foul line.
The Buffaloes led 19-16 after one quarter and the Redskins led 28-19 in the second quarter but led just 30-29 at the half. LHS led 41-37 after three and 43-37 early in the fourth before Garden City rallied and led 50-46 and 48-43. LHS led 55-52 before Koster's three pointer sent the game to OT. Kylan Thomas nailed two free throws toward the end of the first overtime to send the game to a second OT.
Delardris Green had 22 points and 18 rebounds while Cole Evans had 11 points and 10 rebounds. Fitzgerald added 11 and Hinkle had 10.
The Redskins are 6-2 and 1-1 in the WAC while the Buffaloes are 3-6 and 0-2. Liberal hosts Dodge City Fridat night at about 7:45 on 1270 and kscbnews.net.