Skins Sweep Buffs
KSCB News - May 6, 2011 7:29 am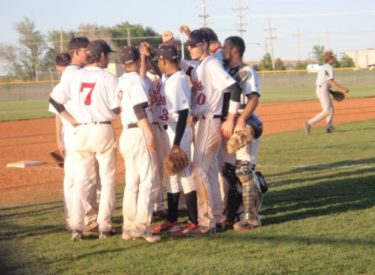 The Liberal Redskins are at it again. They are playing their best baseball at the end of the season. The Redskins took two over Garden City 8-7 in nine innings and 4-3 Thursday on Senior Day at the Liberal Baseball Complex. Head coach Eric Olmstead says things are coming together nicely. "These are WAC wins and we've been struggling with two or three wins a year in the WAC. That's two and we have a chance to get to three or four next week with Hays. I'm very excited for our kids. We have some younger kids up and they've stepped up. It was a great week. We haven't always played our best baseball but we just clutched up when we needed to and found a way to win at home."
In game one, the Redskins led 6-2 until the Buffs scored five in the seventh before the Redskins tied the game in the seventh to send it to extra innings. Jose Pando drove home the game winning run to give the Skins the walk off win. Pando was 3-4 on Senior Day. He hasn't been hitting much due to a hamstring injury. He had been playing almost exclusively at catcher. Fellow senior Fredric Gomez was 3-5.
In game two, sophomore Brent Lenear pitched four and one third innings allowing just two runs. Gomez pitched one and two thirds innings before senior Tyson Deaton earned the save in the seventh. The Redskins broke a 2-2 tie when Daulton Holder lined a single to center to make it 3-2. Holder would allow himself to get in a run down and allow a run to score from third for a key fourth run. Miguel Gomez was 2-3 with a double while Brandyn Terrazas and Dustin Loftins were both 2-3. The Redskins are 9-9 and 2-4 in the WAC. Liberal goes to Hays on Tuesday.