Skins Struggle Offensively in Playoff Loss
Brock Kappelmann - February 28, 2019 7:21 am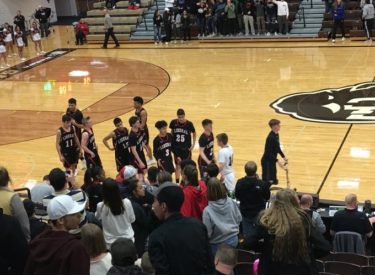 Liberal picked the wrong time to score a season low.  The Redskins season ended in the Garden Wednesday night with a 48-30 loss to the Garden City Buffaloes.
With a festive atmosphere including That Liberal Band looking on, the Redskins trailed 11-2 after one quarter.  Liberal rallied to make the score 11-9.  The WAC champion Buffaloes led 23-12 at halftime.  The Redskins owned the first six points of the second half to make it 23-18.  The Buffaloes went on a 17-5 run to lead 40-23.
Liberal's Israel Avalos and Syris Dunlap continued their late season surges.  They both scored 10 in the loss.  But when sophomore AJ Ramirez made two late free throws in the closing minutes, he became just the fifth Redskins to even score.  Key players like Jordan Mendoza, Brody Sumner, Hunter Hatcher, and Braxton Hyde combined for 0 points.
Liberal drops six of their last seven to finish 10-11.  Liberal was 8-5 after a win at Great Bend.  The Buffaloes are 17-4 for their best record since 1972.  Garden has won seven of the last eight over LHS.