Skins Strong On Senior Day at Billy's
Brock Kappelmann - February 10, 2022 8:40 pm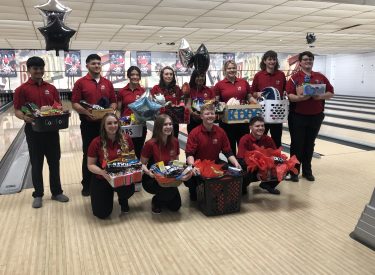 Vs GB
Varsity Girls finished the day with 2244 total pinfall. Gaby Ramirez led the team with a 492 series earning a 2nd place medal. She also led the team with highest game of 189. Frida Civis earned a 3rd place medal with a 488 series.
Varsity Boys finished the day with 3042 total pinfall, earning all
11 WAC points. Josh King led the way earning a 1st place medal with a 670 series and highest game of 246. Oscar Rubio finished 2nd overall with a 589 series and high game of 223. Cody Bremenkamp medaled, finishing 3rd overall with a 563 series.
JV Girls finished with a total pinfall of 1641 earning 3 WAC points. Jasmine Olson medaled finsihing 2nd overall with a 367 series. Ashley Munoz medaled and finished 3rd overall with a 345 series.
JV Boys finished the day with 2204 total pinfall earning all 11 WAC point. Jaden Jennings finished with 464 series earning 1st place medal. Lance Bickerstaff medaled 3rd overall with a 459 series.
"Today was a great full team answer to yesterday's performance. Taking 9 out of 12 medals was great for the kids. Both boys teams taking all 11 points was huge. The girls stayed competitive getting multiple medals at both levels. Before the meet I met with the seniors, thanked them, and told them that they have the power write how they want their memories for today to be. They took control of the pin and wrote a terrific memory!"
Next Tuesday Varsity travels to Great Bend for the WAC tournament. On Thursday JV will be home for the JV WAC tournament.