Skins Rally Falls Short to Dodge City
Brock Kappelmann - September 24, 2022 6:41 am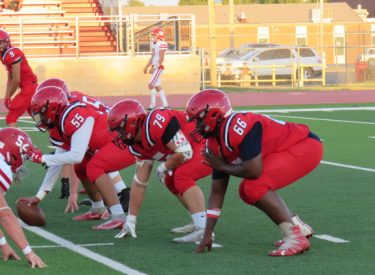 Dodge City held off a furious homecoming Redskin rally Friday night at Gary Cornelsen Sports Complex.  The Red Demons claimed a 23-15 win over the Redskins.  Liberal fell behind 17-0 but rallied.  Redskin quarterback Brooks Kappelmann did not play in the second half due to an injury.
Dodge City's Chance Kerr took in a three yard touchdown at the 2:26 mark to lead 6-0 and the PAT failed.  Daelyn Unzueta bolted 56 yards for a score at the 9:00 mark of the second quarter the the Demons got the two to lead 14-0.  Dodge City's Alessandro Gonzalez kicked a 30 yard field goal with 5 minutes to play in the half to lead 17-0.  Liberal's offense sputtered in the first half and turned it over with one interception.  But the defense stood tall late in the half.  Liberal finally orchestrated a late first half drive.  Brooks Kappelmann was injured on a quarterback run to the four.  But he hobbled back on the field to find Izzy Rotolo for a four yard touchdown with 20 seconds remaining in the half to make it 17-7 at halftime after a Danny Landa PAT.  Kappelmann sat out the second half.  But wide receiver Aiday Schwindt helped lead a more potent offense in the second half.  A Trystian Juarez one yard run at the 7:13 mark made it 17-13 and Liberal got the two as Schwindt found Zayden Martinez for a 17-15 game.  Dodge City's Kaden Garvalena found Isaiah Taylor for a 58 yard TD strike with 1:12 to play in the quarter to make it 23-15.  Liberal through a pair on interceptions in the fourth quarter.
Trystian Juarez ran for 102 yards in the loss.
Liberal is 2-2 overall and 0-1 in the WAC.  They lose their seventh straight home game against the Red Demons and fifth straight loss to Dodge overall.  Dodge City is 3-1 and 1-0.  Liberal hosts Garden City Friday night for Senior Night Friday with Redskin Pre-game at 6 on 1270 and 92.3.  The 1992 and 1997 state championship teams will be on hand after 30 and 25 years.