Skins Finish Fourth at Regionals
KSCB News - May 21, 2011 7:02 am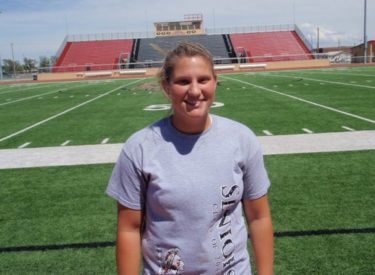 The Liberal boys placed fourth and the girls took sixth at the regional track and field meet at Friends University in Wichita Friday. Ryan Cornelsen's Hays won the boys meet with 172.5 ahead of Bishop Carroll (142), Great Bend (83), Liberal (61.5), Kapaun (37), Valley Center (30), Wichita West (21), and Ark City (11). The top four finishers qualify for state. Slader McVey won the javelin at 174'9". Trenton Hammond won the 300 hurdles in 39.1 second and Adebayou Braimah was second. Justin McPhail was second in the discus. Liberal's 4×800 relay of Fidel Munoz, Eric Minjarez, Alejandro Avila, and Alan Grajeda took third. The 4×400 relay of Adebayou Braimah, Trent Hammond, Isaac Gallegos, and Michael Sena took fourth. Gallegos was fourth in the quarter mile.
On the girls side, Bishop Carroll won their own regional with 140 followed by Kapaun (98), Valley Center (86), Great Bend (84.5), Hays (65), Liberal (40), Ark City (30), and Wichita West (11.5). Caitlin Bauer won the shot put at 38'1". She also took second in the discus. Mackensie Wright was second in the long jump and fourth in the triple jump. Kim Francis placed fourth in the 400. Liberal's 4×800 relay of Francis, Holly Hinkle, Destyni Lucero, and Mercy Perez placed fourth.
State is Friday and Satuday at Cessna Stadium in Wichita.