Skins Can't Shake Scotts
KSCB News - March 10, 2016 6:32 am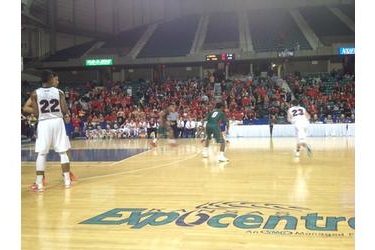 The Topeka Highland Park Scotties had just enough to hold off Liberal 56-52 at 5A state in Topeka's Kansas Expocentre Wednesday night. The Redskins dream of a state title ended after a made free throw with 1.6 seconds remaining. The Scotts made 20-25 free throws while the Redskins were 4-6. That was the key difference in this game.
Highland Park took a 14-11 lead after one and led 21-15 in the second. Kaiden Bigham's heave from several feet inside of half court touched nothing but net just before half and sent Liberal into their lockeroom down 26-24. Highland Park took control of the third building a 36-26 lead before it was 44-37 Scotts after three. Liberal rallied like only the Redskins can. They cut the HP lead to two (49-47) but missed a shot on the post to tie it. Although six hours away from home, Luberal had the clear crowd advantage at the game. A tie would have sent the place into a frenzy. But instead the Redskins fouled Highland Park who made to free throws. LHS would cut the Highland Park lead to three again twice at 53-50 and 55-52, but couldn't get over the hump this time.
Highland Park had only nine turnovers and made 52 percent of their shots and 62 percent in the second half. Liberal dominated the glass out rebounding the Scotts by 11 and leading second chance points 18-2. Liberal had 19 more shots than Highland Park. Deladris Green equaled his career high of 27 points and had nine rebounds. Liberal finishes 17-6. The Scotts are 17-6 and face Kapaun Friday at 8:15.