Size Matters in Liberal's Win Over Gruver
KSCB News - December 12, 2012 7:14 am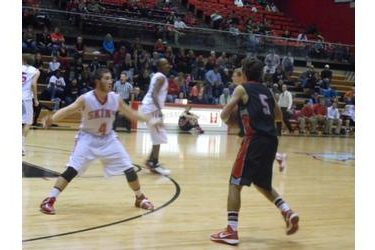 Sometimes size matters. That was certainly the case Tuesday night when LHS beat Gruver 53-24. Liberal, with over 12-hundred students played class 1A Gruver with 120 students Tuesday night in the Big House. Gruver didn't have a prayer in this matchup as Liberal's athletic ability and pressing style hounded the Greyhounds (5-4) into 24 turnovers. Liberal (2-3) raced out to a 19-2 lead on mostly layups. Gruver didn't score a field goal until the 1:17 mark of the second quarter.
J.J. Lewis scored a career high 17 points while William Ross added 16 and Trenton Hammond dropped in 11.
The Redskins play at Perryton Friday night at 7:30 on Talkradio 1270 and kscbnews.net.