Sixth Innings Sink Skins in Hays
Brock Kappelmann - April 1, 2023 1:13 am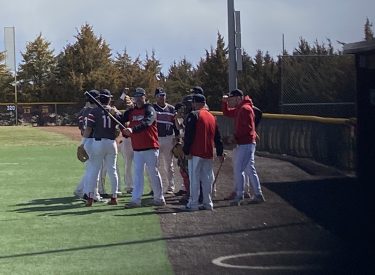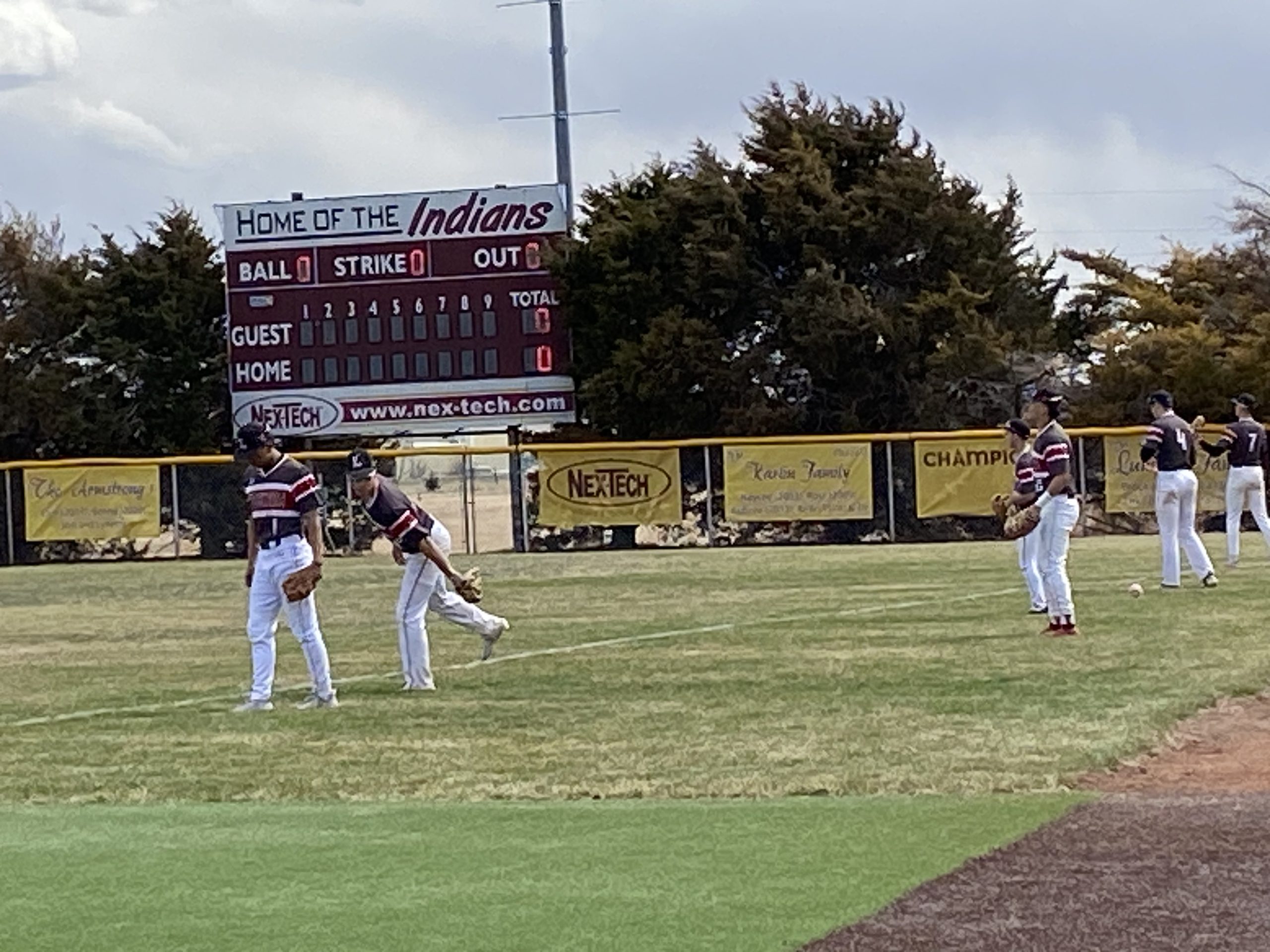 The Liberal Redskin baseball team led most of the day at Hays.  Yet they lost both games.  Liberal led Hays 7-3 in game one only to see the Indians score six unanswered runs.  In game two, LHS led 3-1 only to see Hays score four unanswered runs.  LHS allowed five runs in the sixth of game one and two runs in the sixth of game two.  Hays won 9-8 and 5-3 Friday afternoon and evening at Indians Field in Hays.  The game was played with temperatures in the 60's and 50's with winds gusting out to center 30-45 mph.
Liberal started game one with three extra base hits.  Aidan Schwindt doubled to left center and Brooks Kappelmann followed suit with an RBI double to left center.  Zayden Martinez tripled to right center to drive home a run.  Landon Martinez stroked a sac fly to left for the 3-0 lead.  The Indians scored two runs on four hits in the second.  Liberal took a 4-2 lead with a run in the third.  Schwindt and Kappelmann walked and Zayden Martinez rolled an RBI single through the right side.  Hays scored one in the bottom of the third to make it 4-3.  LHS scored three in the fourth for a 7-3 lead.  Marco Alonso walked and Adan Mata bounced a single up the middle.  Xavier Porras reached on an error.  Alex Schwindt line a single to left to score a  run.  Aidan Schwindt singled home a run.  Brooks Kappelmann grounded out to score a run.  Zayden Martinez walked to load the bases with one out.  However, LHS hit into a double play to end the inning.  Hays scored an unearned run without a hit in the fourth.  That score stood until the fateful sixth.  All five runs in the sixth were unearned because the lead off man grounded out.  The second man reached on an error and the third hitter popped to short.  But instead, the inning lived on and the next batter was hit by a pitch.  Hays' Gage Porter hit a three run home run to left to tie the game.  Carter Graham hit a solo home run to give Hays the 8-7 lead.  Then another error, a walk, and an RBI single.  Liberal out-hit Hays 10-9 but lost after allowing six unearned runs.  Zayden Martinez pitched four innings striking out seven, walking five, and allowing four runs.  Aidan Schwindt pitched 1 and 2/3 and did not allow an earned run.  Adan Mata pitched 1/3 of an inning.  Martinez was the Epic Touch Player of the Game going 3-3 with a triple, a double, and a single with two RBI's.  Aidan Schwindt was 2-3 with a double.  Brooks Kappelmann had two RBI's.
In game two, Hays scored one in the first.  The Redskins countered in the third.  Skyler Hubbard walked and stole second.  Aidan Schwindt reached on an error to score a run as the throw from third got away at first.   The Redskins scored two in the fifth.  Skyler Hubbard ripped a triple over the center fielder's head.  Blayden Betts doubled home a run to right.  Brooks Kappelmann grounded a single to left to score Betts and make it 3-1.  The Indians quickly scored two in the bottom of the fifth on one hit and one error.  One run was earned and one was unearned.  In the bottom of the sixth, LHs walked the bases loaded then committed a throwing error with two outs to allow two runs to score.  Both teams had three hits and both teams had two errors.  Liberal allowed three unearned runs in the game and nine unearned runs on the day.  Skyler Hubbard was the Epic Touch Player of the Game going 1-2 with two runs, a triple, a stolen base, and two runs.  Erek Lira pitched four innings allowing two earned runs.  Alex Schwindt pitched two innings and did not allow an earned run.
Hays is 2-0 and 2-0 in the WAC.  Liberal loses their 8th straight to Hays.  Liberal is 3-2 and 1-2 in the WAC.  Liberal hosts Great Bend Friday at 4pm at the National Beef Sports Complex with Redskin Pre-game at 3:45 on 1270 and 92.3.