Six Lady Saints Named All-Conference; Sierra Named MVP
Joe Denoyer - November 7, 2018 3:58 pm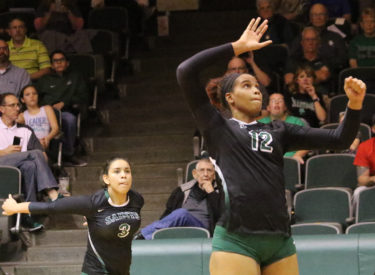 By Ian Applegate
A second straight undefeated season for the Seward County volleyball team, where they lead the conference in virtually every offensive category led to another season of the Lady Saints running away with the KJCCC All-Conference Awards.  Six Lady Saints were named All-Conference, while Head Coach Tony Trifonov was named Coach of the Year.
Leading the way for the Lady Saints was 6-foot-6 sophomore Luz Sierra.  Sierra was named 1st Team All-Conference, while also being named the Most Valuable Player for the KJCCC. Sierra was as efficient as they came on offense, setting the Lady Saints single season record for attack percentage at .499 on the year.  That was good enough to rank 2nd in the nation.  She also finished with 102 blocks on the defensive side.
Joining Sierra on the first team is Giovanna Tapigliani and Djuly Schmorantz.  Tapigliani led the Lady Saints and the conference in kills (429) and kills per set (3.67).  Freshman outside hitter Schmorantz was just being Tapigliani, finishing second on the team and in the conference in kills (408) and third in kills per set (3.43).
Despite finishing 2nd in the nation in assists per set (10.90), freshman setter Laura De Pra was named 2nd Team All-Conference.  She set multiple records throughout the year, including most assists in a four-set match.  De Pra led the league the total assists as well with 1,199.
Finding her way on the Honorable Mention team is sophomore libero Nathiellen Machado. Machado led the team in digs with 529 and is currently 6th all-time in career digs with 986. Her digs total this season is the 7th most in a single-season and she will have a chance to increase it at the NJCAA National Tournament.
The final Lady Saint to be named All-Conference was sophomore outside hitter Esmadar Tavares.  After making the switch from setter, Tavares finished fourth on the team in kills (157), while racking up 88 digs on the year.
Guiding the Lady Saints to the undefeated conference season and Region VI Championship was Head Coach Tony Trifonov.  The 16 conference wins ties last season's record.  Seward played a total of 60 sets against KJCCC opponents, winning 57 of them.  This marks the third consecutive season that Seward County has had the Coach of the Year in the Jayhawk Conference.
The six all-conference selections ties last year's squad for most in program history. Seward will travel to Hutchinson, Kansas to play in the NJCAA National Tournament from Nov. 15-17.  Seward earned the No. 6 seed in the National Tournament and will play No. 11 seed Snow at 9:00 am on Nov. 15.