Sierra Morrow is Jayhawk West Player of the Year
Brock Kappelmann - April 16, 2021 7:08 am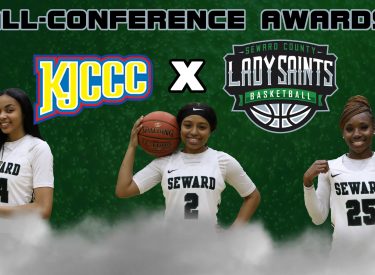 Kenny Hernandez
LIBERAL, Kan. – The Seward County Community College Women's basketball team has been recognized by the KJCCC with three Lady Saints earning postseason awards. Sierra Morrow has been named the KJCCC West Division Most Valuable Player and placed on the first-team all-conference team. Sierra Lynch has been recognized and awarded to the second-team All-Conference. Also, Miyah Dubose has been awarded Freshman of the Year in the West, Defensive player of the year, and All-Conference Honorable Mention.
Sierra Morrow is a well deserved recipient of the most valuable player award as she led Seward County in points per game with 18.1, blocks per game with 3.5, and rebounds per game with 7.0. Morrow entered the Lady Saints record books tied with points scored in a single game with 41 points, 11 rebounds in a win over Cloud County Community College. She also had the third-best scoring performance in program history with a 39 point performance against Hutchinson Community College and she also added nine rebounds and five blocks in the game. Morrow led the conference in blocks per game, second in points per game, third in field goals made per game, and eleventh in rebounds per game.
Sierra Lynch a sophomore leader for Seward County was selected for the second team All-Conference. Lynch averaged 10.2 points, led the team with 2.5 assists, and four rebounds per game. Lynch had her season-high at Neosho County Community College with 24 points, three rebounds in 21 minutes of playtime.
Miyah Dubose has been awarded the Freshman of the Year and Defensive Player of the Year in the Jayhawk West and selected as All-Conference honorable mention. Dubose provided 5.8 points, 4.2 rebounds, and 3.2 steals per game that ranked second in the conference. She had a career game against Pratt Community College on March 31st with 11 points, and 10 rebounds in the 89-50 victory. Dubose is a true freshman from Minneapolis, Minnesota, and provided the Lady Saints with extra possessions with her speed and defensive abilities.
Seward County finished the season with a 17-6 overall record, finished fourth in the NJCAA with 84.3 points per game, second in three points made per game with 10.7, and seventh in steals per game with 14.9. We congratulate these three students-athletes on their success and their conference awards.