Shorthanded Saints Can't Hold Late Lead in Dodge City
KSCB News - January 18, 2015 6:58 am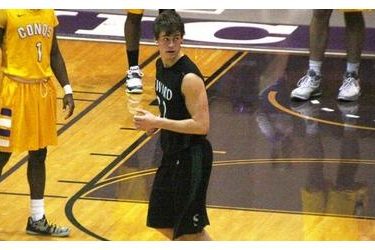 If the Seward County Saints were playing a regulation high school game of 32 minutes, they would have been fine Saturday night in Dodge City, but playing with just seven players due to suspensions and injuries, the Saints ran out of gas in the 40 minute contest in the Civic Center, falling 76-71 despite a double digit second half lead to fall to 9-9 overall and 2-3 in Jayhawk West play.
A shorthanded Saints squad played tough early on in their first contest in the Dodge City Civic Center in three seasons, finding enough offense to get out to a 7-4 lead on the homestanding Conquistadors. As the half went along however, 7'1 Dodge City center Payton Pervier gave Seward all kinds of problems, hitting on his first six field goal attempts, five on offensive rebounds, to push the Conqs in front 20-19. Seward found themselves down by four when Darius Polley hit a pullup three to make it a one point game and on the Saints next possession, they would draw foul number two on Pervier to send him to the bench down 27-26. An 11-4 Seward run without the Dodge big man in the game turn the tides, putting the Saints up 37-31 late in the period, but a buzzer beating three by the Conqs cut the Seward lead to just three at 37-34 before the half.
The halftime numbers for the two teams were nearly identical as both shot 46% from the field while turning it over 5 times, but it was Seward's five first half three pointers that staked them out to the three point advantage. Secean Johnson led Seward with 10 first half points while Tyreke Sharp pitched in 8 for the Saints.
It remained a three point game two minutes into the second half when Seward went on a quick 7-0 run to take their largest lead of the night at 48-38 with 16:41 to go. The teams traded baskets before Sharp's fourth three of the game made it a 53-42 Saints lead with under 15:00 left in the contest. That is when the Saints went ice cold. Seward failed to get a field goal for the next 8:24, watching their lead go from 11 all the way down to 1 with 6:24 remaining. A Dodge City three after a hustle play on a loose ball gave the Conqs a two point lead and that is where it stood until Darius Polley drove the lane and scored to tie the game at 64 with just under five minutes to go. The Saints wouldn't muster another field goal for over two minutes and that proved fatal to the guys in green as Dodge opened up a seven point lead with 2:50 left in regulation. Seward slowly crept back into the game and a pair of Mitchell Packard free throws made it a one point game 72-71 with 45 seconds left, but the Saints fouled and Dodge City took care of business at the free throw line down the stretch to pull away and win 76-71.
The second half numbers showed the fatigue in the Saints legs late in the second half as Seward shot just 39% in the period while allowing Dodge to shoot 54% in the final 20 minutes. Johnson led Seward with 22 points and 8 rebounds in the loss while Sharp tied a career high with 18.
Seward drops into unfamiliar territory at 9-9 overall and 2-3 in Jayhawk West play where they now sit three full games out of first place and a game and a half out of the cellar. Dodge City improves to 14-6 on the year and 4-2 in conference action.
The Saints will need to find a way to recover quickly as they begin a tough stretch against long time Jayhawk West rivals on Wednesday when they host Garden City in the Greenhouse for an 8:00 tip. Free tickets are available courtesy of our buyout sponsor First National Bank, at any of their Liberal locations.
SEWARD COUNTY/DODGE CITY BOX SCORE<http://www.sewardsaints.com/sports/mbkb/2014-15/boxscores/20150117_vay0.xml?view=boxscore>
Roy Allen