Shockers Pay Tribute to Kaiser Carlile
KSCB News - May 17, 2016 12:33 pm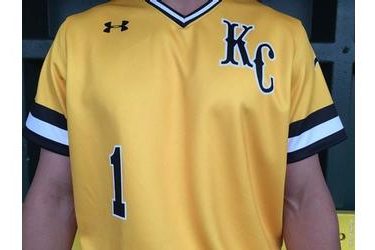 WICHITA, Kan. – Wichita State Baseball will be wearing special edition tribute jerseys for Kaiser Carlile that will be auctioned off on Tue., May 17 against Kansas at 6:30 p.m. at Eck Stadium.
Kaiser was the 9-year old batboy for the Liberal (Kan.) Bee Jays collegiate summer baseball team. Kaiser was accidentally hit in the head during a baseball game in Wichita, Kan., during the 2015 NBC World Series. He was severely injured and passed away the next day.
"What happened last summer just crushed everyone in the state," said Wichita State head baseball coach Todd Butler. "The minute we heard about it, I knew we had to do something for the Carlile family and the community of Liberal, Kan. I coached the Liberal Bee Jays and that baseball town is one big family. I hope what we do for the family and town tomorrow can help in some way."
The money raised from this auction will be donated to the BigHits4Kaiser Foundation, which will donate directly to the Carlile family.
Bids start at $80 for the jerseys, which are pictured below. The auction will start when gates open at 5 p.m. and will end immediately after the end of the third inning.
For tickets visit goshockers.com or call the WSU Ticket Office at (316) 978-FANS.