Sheina Fernandes to Speak at SCCC Commencement Ceremony
Joe Denoyer - April 17, 2018 10:20 am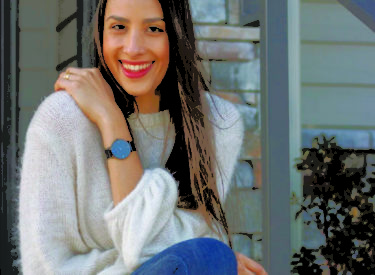 Event set for 10 a.m. May 5, with Louie, reception, Cinco de Mayo dancers
Sheina Fernandes, a 2011 graduate of Seward County Community College, will speak at the College's commencement at 10 a.m. Saturday, May 5, in the Greenhouse gymnasium. Around 300 SCCC students are expected to participate in the ceremony.
Fernandes, who currently lives, works, and studies in the Kansas City area, was born in Porto Alegre, RS, Brazil. She started playing volleyball at age 8, and continued through high school. Though she enrolled in pre-law studies and joined a team at a Brazilian university, Fernandez had her eye on something more.
"I'd always dreamed of coming to United States and learning English, so one day, after watching an American movie with my mom about a girl receiving a dance college scholarship, I decided that I wanted to try," she recalled. Fernandes reached out to friends who were playing volleyball in the U.S., and ended up receiving an offer from SCCC.
SCCC Director of Admissions Bert Luallen, then volleyball coach at the College, recalls Fernandes as "incredibly goal-oriented."
"Being only 5 foot 10 is pretty small for a middle hitter, but she was determined to be successful and achieved that with her quickness and her intelligence," he said. "In that position, you have to process so much information so quickly. I knew she was going to be great."
That did not come easily, Fernandes said.
"I was very lost at first. I barely knew any English so it was hard to communicate, especially with my coach and teammates. My form of communication with my coach was playing my game," she said.
A high-achieving student in Brazil, Fernandes had to set up her own English-language intensive method. "By the end of the season I was doing much better."
"Classes were hard at the beginning, and I remember having to translate everything in Portuguese first before I could even start studying. I did this for the first months and after that I was able to study in English but always had Google translator open on my computer," she said.
Despite the language barrier, "I loved everything about SCCC. The people were super friendly, the gym was awesome compared to one I had in Brazil; I remember being so excited when I received all new volleyball gear and found out that we didn't even have to do our own laundry."
That was just the beginning. Fernandes discovered warmth and support on campus and throughout the community.
"Patsy Fisher (SCCC Advising coordinator) was always supporting all the international students and taking care of them as her own children, and I also had two American host families, Jay and Kay Hay, and Todd and Kelly Carlile, who showed me so much love and support," she said. "And, I'm grateful to all the teachers for being so patient and supportive."
The result? Fernandes found herself reaching goals on court, and in her academic performance. She served as team captain her sophomore year, and raked in a long string of "best player" and championship awards in the Jayhawk West conference.
"I will never forget the day when I received the W.A. Shufelberger Award for Academic Excellence. I remember sitting at my first athletic banquet watching the one female athlete receiving the award and I told myself: 'next year will be me,'" she said. "So I worked even harder during my sophomore year and had the honor to receive the same award in 2011."
Fernandes also took a permanent reminder of SCCC with her after graduation.
"Of course, I'll never forget when Thiago Guilherme, SCCC basketball player and now my husband walked into the gym and Coach Luallen introduced us," she said. "One year later, he proposed, and we have been together since then."
Fernandes received a full scholarship from Oral Roberts University, a D-1 school in Tulsa, Okla. She earned a bachelor's degree in business, multiple academic and athletic awards — including the "Ultimate Whole Person Award" — before returning to Brazil with her husband. In 2016, the couple decided to return to the States. Fernandes is pursuing an MBA with focus in Marketing at Park University, and plans to find a marketing related job focusing on social media strategies.
She's already gotten a good start on her career goal, operating a health and wellness blog and Instagram account. Fernandes coaches followers on how to make smart choices for fitness and food — another life path that originated at SCCC.
"When I arrived,  American food was also very different. I was not used to eggs, bacon, and potatoes for breakfast, or pizza after the games, and I gained around 10 pounds during my first semester," she said. "When I started a diet to prepare for my wedding, I made so many lifestyle changes, it made me a happier person — and now I want to share tips on how to keep up with a healthy life." Fernandes' site can be found at www.sheinafernandes.com.
SCCC President, Dr. Ken Trzaska, said Fernandes is a perfect fit for commencement ceremonies at a college dedicated to the pursuit of excellence for all, across cultures, disciplines, and languages.
"Sheina exemplifies the possibilities for students at Seward, and also shows how our key directions play out in real life," he said. "Whether we're focusing on health and safety, or achieving high outcomes, or supporting student success, we see all those qualities in Sheina. We're pleased to welcome her back to campus as we celebrate the achievements of our graduates."
Commencement at SCCC begins at 10 a.m., Saturday, May 5. Mascot Louie the Saint will be on hand to greet guests and take selfies. Photography services for individual photographs of graduates will be available, thanks to Collins Photography of Liberal. Following the ceremony, graduates and families are invited to a reception on the college green. To add to the festive atmosphere, Cinco de Mayo dancers are slated to perform in the outdoor amphitheater adjacent to the courtyard.