Shay Kerr Wins Local Youth Entrepreneurship Challenge
Joe Denoyer - March 3, 2021 4:33 pm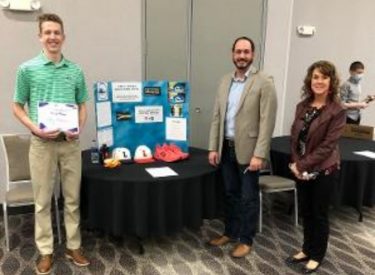 The Seward County Development Corporation hosted Liberal's first Youth Entrepreneurship Challenge (YEC) on Wednesday, March 3 at the Liberal Conference Center. This competition was originally created by Network Kansas and serves to offer students the opportunity to develop and present a business idea.
The event included 38 individual businesses designed by students in the entrepreneurship course at Liberal High School. Students were required to write an executive summary of their business plan, create a tradeshow booth, and present their business idea to a panel of judges.
Kerr's winning business idea "Sole Cleaners" would provide cleaning services for people's shoes and hats. As Kerr noted, people spend a significant amount of money on shoes, and they don't like when those get dirty. Most people don't know how to clean these properly or don't have the necessary supplies. His company would provide those.
Eli Svaty, host of the event, thought it was a great success. "It's a great opportunity for the students to interact with community members and gain experience presenting their ideas. We had great judges who could ask relevant questions, and I know the students gained insights from that." Svaty also had high praise for the school's program. "Mrs. Ebeling has always had a strong entrepreneurship program at LHS, and I'm pleased we were able to provide this competition for them. Many of her former students are now business owners in our area, and I'm sure some of the kids competing today will one day open a business here."
Three other prizes were awarded at the event. Second place went to Adan Mata for his business "Grind House Café." Third place went to Mana Chanthasone for her business "Virtutors." The final award was the People's Choice award based on votes from community members who visited the trade show. Winner of the People's Choice award was Javon Allen and his business "Faye's Health Palace."
With his win, Kerr qualifies for the Kansas Entrepreneurship Challenge event hosted by Kansas State University. This year, the event will be virtual and will take place April 27.