Seward's Wood Named All Conference
KSCB News - November 11, 2015 1:26 pm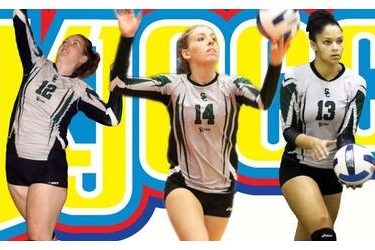 Following one of the programs best seasons in recent memory, three Seward County Lady Saints were named to the All-Jayhawk West Team as announced by the conference Tuesday. Sophomore Alex Wood finished as runner-up to Hutchinson's Aubrey Wilson for Player of the Year honors while garnering 1st Team All-Conference accolades, Megan Sharratt was named to the 2nd Team and Viviane Viana was an Honorable Mention All-Conference pick.
Alex Wood was the Lady Saints top selection on the team, as the coaches selected her to the 1st Team to mark the fifth straight year for a Seward County outside hitter to receive the honor. She led the Jayhawk West in kills this season with 469 which also ranked her in the top 10 nationally in the category. Wood was also solid on the defensive end for Seward, finishing her sophomore season with 411 digs which was second most on the team and was most among non- defensive specialists. Despite battling through a lingering shoulder issue all season, Wood was durable for Seward, starting all 41 matches for the Lady Saints and recording double digit kills in 27 of those contests.
Megan Sharratt was a 2nd Team All-Jayhawk West pick by the coaches, averaging 2.10 kills and 0.79 blocks per set for the Lady Saints. Sharratt was an ironwoman for the Lady Saints, starting all 41 games during her sophomore season to finish her Seward County career having never missed a single match. Sharratt's 123 blocks on the season led the team and ranked in the top 10 in the Jayhawk West. She finishes her Lady Saints two year career with 223 total blocks, ranking her just outside the top 10 in school history. She had 15 matches of 10 or more kills this season and four or more blocks in a match 17 different times.
The final piece to Seward's 2015 puzzle, Viviane Viana, proved to be a key one, finishing second on the team with 2.19 kills per set while also helping anchor the backrow with 2.92 digs per set. For her efforts, Viana was named an Honorable Mention All-Conference selection by the league's coaches. Her 2.92 digs per set ranked her second among all non-liberos in the Jayhawk West. Viana had 15 matches of 10 or more kills in 2015 as well as recording double digit digs in 21 of her 36 matches played. She lined the two up for six double-doubles on the year including a pair in Region VI Tournament play against Butler and Cloud County.
Seward's three selections to the All-Conference Team were tied for the most in the league with Jayhawk West Champions Hutchinson as well as Colby.
Roy Allen