Seward's Wood and Sharratt Sign at Wayland Baptist
KSCB News - March 31, 2016 6:32 am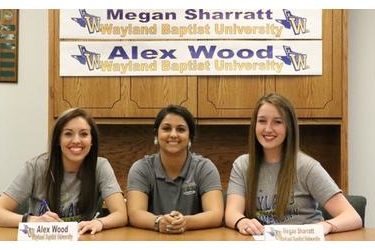 Coming off of a season in which they led the Lady Saints to their most Jayhawk Conference wins since the 1998 season, Seward County sophomores Alex Wood and Megan Sharratt signed on the dotted line on Wednesday, finalizing their commitment to Wayland Baptist University for the 2016 and 2017 seasons.
Wood, an outside hitter from Junction City, Kansas, was a 1st Team All-Conference and 1st Team All-Region selection for the Lady Saints as a sophomore in 2015. She led the Jayhawk West and ranked in the top 10 nationally with 469 kills this season, finishing her Seward County career with 669. She was also stellar on the defensive end, leading all non-defensive specialists in the conference with 411 digs. Wood started all 41 matches for the Lady Saints as a sophomore, racking up 15 double-doubles on the year. She was named the Jayhawk West Player of the Week twice and was named to three different All-Tournament Teams during the year including receiving MVP honors at the Ozfest Invitational.
Sharratt, a middle hitter from Albuquerque, New Mexico, was a 2nd Team All-Conference and 2nd Team All-Region pick for Seward in 2015. Sharratt averaged 2.10 kills and 0.79 blocks per set for the Lady Saints during her sophomore season. Her 123 total blocks on the year led the Lady Saints and ranked in the top 10 in the Jayhawk West. She finishes her two year Seward County career with 223 total blocks, ranking her just outside the top 10 in school history. Sharratt was durable during her stay in Liberal, starting all 41 matches this season while not missing a single of the 307 Lady Saint sets played during her Seward County career. She was twice named the Jayhawk West Player of the Week during her Lady Saints career and also made the All-Tournament Team at the Ozfest Invitational in both seasons.
Wood and Sharratt will join a Wayland team coming off of a 29-8 season in 2015 that included their second straight Sooner Athletic Conference Championship and their third straight trip to the NAIA National Tournament. They will join a Pioneer squad that has the ability to return as many as nine players from last year's squad, but just two listed at their positions on the outside and in the middle.
Roy Allen