Seward's Stevenson First Team All Jayhawk
KSCB News - March 11, 2016 7:02 am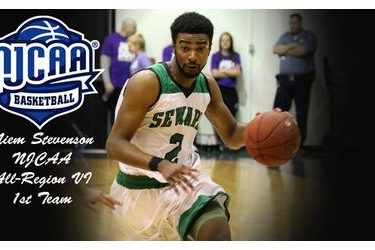 The trophy case at the Stevenson household has to be getting quite full and Wednesday, another major award went the way of Seward County sophomore Niem Stevenson as he was named a 1st Team All-Region VI selection, adding to his impressive collection accumulated during his Saints career.
Stevenson was the Saints lone representative on the All-Region VI teams, garnering the second most votes of any player to receive 1st Team honors for the second time in his Seward County career. Stevenson led Region VI in scoring by a wide margin, averaging 24.7 points per game on the year with the next closest player, Allen's Jermaine Long, putting up 20.4 per game. He scored 20 or more points in 24 of Seward's 31 games in 2015-2016, going over the 30 point mark seven times. Stevenson also averaged 6.9 rebounds per game on the year, making him one of just two players in the league, along with MVP Bashir Ahmed, to average 20 or more points and 6 or more rebounds outing on the season. He wrapped up his Seward County career with 1,345 points, putting him 4th in Saints history, behind a trio of Seward Hall of Famers in Tony Slaughter, Kevin Houston, and Carlo Walton. His 767 points during his sophomore season in 2015-2016 were also 4th most in a single season in school history.
Five different teams were represented on the 1st Team All-Region VI. Overall Pratt and Hutchinson tied for the most recipients with three each.
With Stevenson's finish in the All-Region voting, he will now be nominated for NJCAA All-American consideration to try to finish off his Seward County resume.