Seward's Speer Signs at Ottawa
KSCB News - May 11, 2016 2:41 pm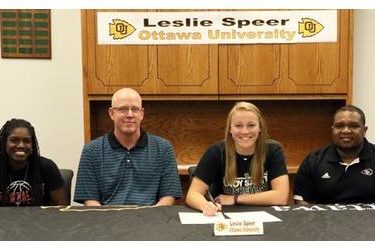 Seward County sophomore Leslie Speer made her decision for the final two years of her academic and athletic career on Wednesday, signing at Ottawa University in Northeast Kansas.
After helping lead Seward County to 55 wins over the past two seasons, Lady Saint sophomore Leslie Speer signed to continue her career on Wednesday, inking at Ottawa University. Speer played in 59 games for Seward over the past two seasons, scoring 172 points and shooting 46% from the field in the process. Speer saw action in all 33 Lady Saint contests as a sophomore this season, scoring in double figures in three different Jayhawk Conference games including a career high 15 point effort against Neosho early in 2016 and back to back 13 and 12 point games against Colby and Pratt to close the regular season.
Of her time at Seward Speer said "I have made friends here that I will have the rest of my life. Seward is really a special place to me and I will never forget the memories that I created here."
Speer will join Braves squad next season that is coming off of a 12-18 season that included nine wins in KCAC action. Ottawa will have some rebuilding to do next season after losing eight seniors, but the Braves will return their top two scorers from this season in juniors Ashley Romig and Madi Stewart.
Ottawa Head Coach Bruce Tate joined Speer for her signing on Wednesday and said "Leslie will fit well into our system. She is strong around the basket and is a high percentage player with the ball in her hands."
Seward County Head Coach Toby Wynn said of Speer's decision to sign with Ottawa "I think it is a great fit for her and Ottawa. She will get a chance to compete and contribute right away."
Roy Allen