Seward's Silva Makes All Region and All Conference
KSCB News - November 7, 2012 1:35 pm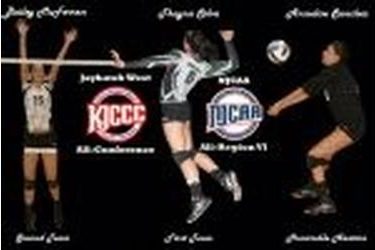 The KJCCC announced Tuesday that a trio of Seward County Lady Saints were chosen by the league's coaches as recipients of All-Region and All-Conference awards.
Hutchinson swept the top honors in the conference as Teresa Wade was named both the Freshman of the Year and the Player of the Year while Dragon Head Coach Patrick Hall was named Coach of the Year for the third straight year in the league with his third different team in that span. Hutchinson had four All-Region VI and All-Conference picks while Seward, Colby, Barton, and Garden City each had three.
Freshman Thayna Silva was a first team selection, Sophomore Bailey McFerren was picked second team for the second straight year, and freshman Annelise Sanchez was given Honorable Mention accolades. Silva was nothing short of spectacular this season for the Lady Saints, far and away leading Seward in kills per set with 2.63 and digs per set at 3.47. She was a First Team All-Region VI and All-Jayhawk West pick after racking up 329 kills and 434 digs for the Lady Saints in 2012, making her one of just four players in school history to achieve that feat. McFerren was once again one of the most feared middles in the conference this season. She earned Second Team honors by finishing the season at just under 2.00 kills per set and 1.00 blocks per set. She finishes her Seward County career 4 th all-time with 317 total blocks. Sanchez teamed up with Silva to make one of the deadliest outside hitter combos in the conference this season. She averaged 2.55 kills per set as a rookie in conference play and notched just over 1.00 dig per set.