Seward's Seda is KJCCC Player of the Week
KSCB News - January 20, 2015 4:21 pm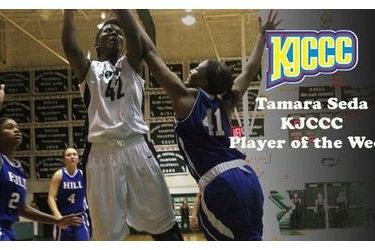 After leading the Lady Saints to a pair of road victories to improve to 17-1 overall and 5-0 in Jayhawk West Conference play this week, Seward County redshirt freshman Tamara Seda has been named the KJCCC Week 10 Women's Basketball Player of the Week.
Seda led Seward to two more wins this week, averaging 22 points and 10.5 rebounds per game for the Lady Saints in road victories over Barton and Dodge City. Monday against Barton she was a perfect 6-6 from the field and scored 16 points. Saturday against Dodge City she scored a career high 28 points and became the first Seward player in history to record 16 or more rebounds three times in the same season, corralling 16 boards against the Conqs.
Seda and the Lady Saints return home on Wednesday as they host Garden City in a 6:00 tip in the Greenhouse.
Roy Allen