Seward's Saurombe Named Region Sophomore of the Year
KSCB News - May 12, 2015 1:38 pm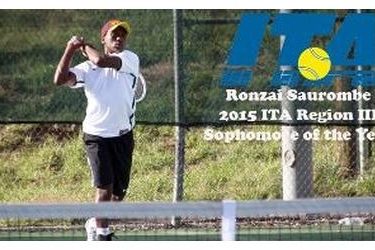 Following a 22 win regular season, Seward County sophomore Ronzai Saurombe has been named the ITA Region III Sophomore of the Year.
Saurombe, the Saints #1 singles and #1 doubles man throughout the 2015 season, put up matching 11-3 records in singles and doubles play this Spring. He heads to this week's NJCAA National Tournament as the 6th seeded player in the #1 singles bracket and #7 in the #1 doubles bracket with partner Vitor Galvao. Saurombe will wrap up his career at Seward County this year as the most decorated player in school history. He was the Region VI Champion at #1 singles and #1 doubles as a sophomore in 2015, also winning tournament titles at the Bethany Invitational and the Metro State Invitational against four year competition this fall. As a freshman he put up gaudy numbers as well, going 49-14 as a rookie in route to ITA Rookie of the Year honors. Included in those 49 wins was the biggest in school history, a National Championship victory at the ITA National Tournament during the 2013-2014 season.
Saurombe and the Saints will continue their run at the 2015 NJCAA National Tournament this afternoon in Plano, Texas. Saurombe is set to begin play in the #1 singles consolation bracket Tuesday at 3:30 with his second doubles match of the tournament right before that at 1:00.
Roy Allen