Seward's Run at National Tennis Tournament Complete
KSCB News - May 7, 2014 4:09 pm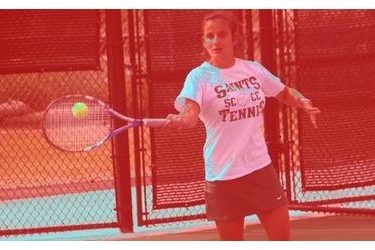 The Seward County Lady Saints 2014 tennis season came to a close Wednesday afternoon in Tyler, Texas as their final three competitors were eliminated from the NJCAA National Tournament. Paula Coyos wrapped up a phenomenal week in 3rd place in the #2 singles draw while Coyos and partner Paula Lopez paired to finish 3rd in #1 doubles, and #4 singles player Jackie Arnold finished 5th in the consolation draw.
The Lady Saints only singles player still left in the main draw on Wednesday was freshman Paula Coyos who dominated on her way to the semifinal round in #2 singles. Coyos drew the tough task of taking on Fatyha Berjane of Georgia Perimeter in her semifinal matchup and came out guns blazing, winning the first three games against the brackets top seeded player. But after Berjane got momentum back on her side, she was unstoppable, winning the final six games in the set to take the opening set 6-3. Coyos regrouped between sets though and came back to win the second 6-4 to force a third set tiebreak. In the deciding set, it was Berjane holding seed, winning 6-3 to eliminate Coyos from the tournament with a 3rd place finish.
After winning a quarterfinal match in the #4 singles consolation bracket, Seward's Jackie Arnold took the court Wednesday against Carolina Hernandez of Jacksonville in the semifinal round. Unfortunately for the Seward freshman, Hernandez was just too much, knocking her off 8-2 to end her tournament with a 5th place finish in the consolation round.
The much anticipated matchup between Lopez/Coyos and Vanko/Vavulina of ASA in the #1 doubles semifinal finally came to fruition Wednesday after the two top pairs had little trouble advancing to the round of four in their three earlier matches. Lopez/Coyos got off to a good start, winning the first set 6-4 to take an early 1-0 advantage, but Vanko/Vavulina battled back to take the second set 6-3 to force a winner take all third set. The third set was a classic back and forth battle, but in the end it was too many errors on the Lady Saints side of the net and ASA took full advantage of the mistakes, taking the third 7-5 to win the match 2-1. Lopez/Coyos finish the tournament 3rd after also finishing third as a pair during the ITA National Tournament in the fall together.
Play continues Wednesday evening in Tyler with the finals concluding the tournament on Thursday.
Seward sits in 14th place at time of publication and is expected to remain at or near that mark at the conclusion of the tournament. Check back at SewardSaints.com or on Twitter @SaintsSports for updates Thursday.
COMPLETE 2014 NJCAA NATIONAL TOURNAMENT RESULTS<http://www.apacheathletics.com/f/NJCAA_D1_Womens_Tennis_National_Tournament_Schedule_and_Results.php>
Roy Allen