Seward's Road Woes Continue
Brock Kappelmann - February 19, 2021 9:05 pm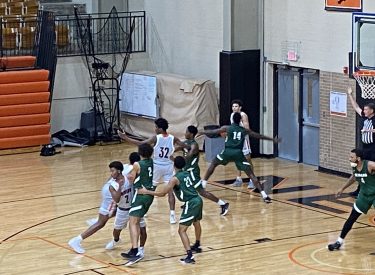 The Seward County Saints fall to 0-3 on the road and 2-3 in the Jayhawk after a 77-72 setback at Neosho Friday night.  The game in Chanute was a makeup game from February 10.  The women didn't play due to Covid 19 issues within the Neosho women's program.
The Panthers, playing for  the first time since February 6, led most of the night.  Seward jumped out to an early 7-2 advantage.  The game was tied 12-12 at the media timeout.  Neosho led by as many as 13 at 39-26 in the first half and led 39-30 at halftime.  The Saints tied the game 49-49 with 14 minutes to play and took a brief lead at 54-53.  Neosho grabbed the lead back at 57-54 at the media timeout. Seward trimmed the Neosho lead to three at 63-60 and 74-71.  But the Saints couldn't get over the top.
The Saints shot 36 percent while Neosho shot 43 percent.  The Panthers made hay at the foul line going 32-36.  Seward was 20-32.  Neosho out rebounded the Saints 36-32.
Sam Henderson led the Saints with 17.  Kevon Cooper had 16 points and six rebounds. Erik Pratt scored 13 but both he and Devonte Jennings fouled out.
Seward loses in Chanute for the first time since 2017.  The Saints lead the overall series 10-9.  Seward is 2-3 and Neosho is 2-3.  The Saints play Independence Saturday with the women's game at 2 and the men's game at 4 on 107.5 and kscbnews.net.