Seward's Road Woes Continue at Coffeyville
Brock Kappelmann - January 31, 2022 10:46 pm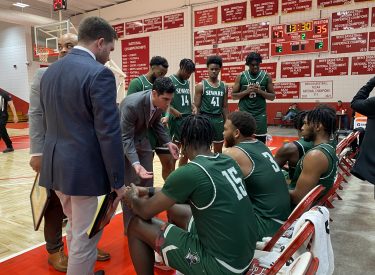 Coming into the night, Seward has only won two games in their history at Coffeyville against the Red Ravens.  So winning their first road game in the 2022 calendar year seemed like a tall task.  It was indeed too much for the Saints Monday night at Nellis Hall as the Red Ravens ran by the Saints 77-58.  Seward is 0-6 on the road since January 1.
The Saints claimed an early 16-15 lead.  The Ravens used a 10-0 run to lead 25-16.  Coffeyville led 29-18 before a 34-24 lead at halftime.  The Saints collected the first five points of the second half to cut the lead to 34-29.  Seward trailed 54-48 with eight minutes to go but an 11-2 Raven run made it 65-50 with 2:45 to play.
Coffeyville out rebounded the Saints 39-29.  Seward shot 40 percent and made 8-25 from three point range. The Ravens connected on 42 percent from the field and 9-26 from three. Seward was 10-12 from the foul line and Coffeyville was 18-23.  Seward committed 14 turnovers compared to Coffeyville's nine.  Taye Donald scored 13 while Bee McCrary and Kevon Cooper scored 10 points and pulled down six rebounds a piece.
Seward falls to 9-14 on the road and 6-11 in the Jayhawk.  SCCC is 3-9 on the road.  Coffeyville is 10-10 overall and 7-7 in the KJCCC one season after winning the NJCAA title.  Seward remains in southeast Kansas and plays at Independence Wednesday night at 7 on 107.5 and The KSCB and The Legend App.