Seward's Ortiz Wins ITA National Title
Brock Kappelmann - October 22, 2019 7:19 am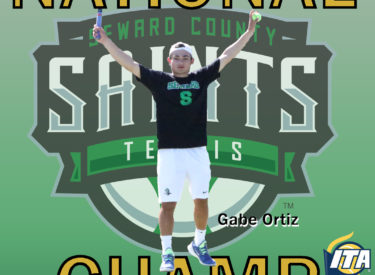 Kenny Hernandez
Rome Georgia– Seward County Saints Men's Tennis team return to campus with 2 National Runner Ups and a National Champion in Singles at the National tournament in Rome Georgia. Gabe Ortiz defeated Sander Jans to claim a National Championship in singles and Sander Jans claims National Runner Up. Doubles team Karl Wurth and Sander Jans lose in the National Championship to claim the National Runner Up title.
The Saints went the Rome Georgia as the number one team in the doubles draw with Wurth and Jans and swept through their first and semifinal opponents. In the Championship match Wurth and Jans would lose the opening set in a tiebreaker and could not recover losing 6-7, and 3-6.
The Singles draw had two Saints competing with Jans and Ortiz but on opposite sides of the draw. They both would win their first-round and semi-final matches to be placed in the National Championship. This was the first time in school history that two Saints would compete against one another for the Singles National Championship. Gabe Ortiz would prevail and win the National Championship, and this is the second time in school history the Saints would win the Singles title, the last time was a year ago.
Having this great success in the Fall season shows what this time has to offer in the spring season. It was not the outcome that Wurth and Jans had their sights on, but it is still a great honor to hold. Ortiz will look to continue the success of his singles for the team this spring and will not have to face off against fellow teammate Jans in competition, only in practice.