Seward's McSpadden Lands Another Hall of Fame Honor
KSCB News - September 7, 2012 8:35 am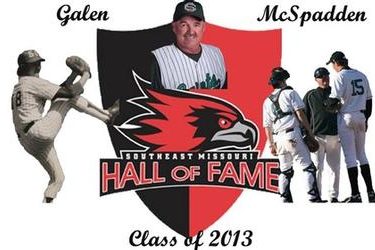 After coaching for more than 30 years and racking up
more than 1,000 wins, Seward County Head Coach Galen McSpadden has taken
home his fair share of awards and has been inducted into three different
Hall of Fames including the NJCAA Hall of Fame but this call was
different. McSpadden, whose roots were grown in the Southern part of
Missouri, received a very special call last week from Southeast Missouri
State Athletic Director Mark Alnutt. Alnutt informed McSpadden that he
had been elected to the Hall of Fame of his alma mater, Southeast
Missouri State, and before Alnutt could finish the invitation, McSpadden
had accepted the invite back to Cape Girardeau and penciled in his
February 8th induction date on his calendar.
Much has changed at SEMO since McSpadden's playing days
there in the early 70's. The school who was known as the Indians when
he donned the red and black, are now the Redhawks. Capaha Field, where
McSpadden and the current Redhawks play their games has changed just a
touch as well. Instead of the chain link outfield fence and manual
scoreboard, the park now sports a state of the art press box as well as
an advertisement laden wooden fence and top notch scoreboard. However,
there are a few things that haven't changed in the nearly 40 years since
McSpadden toed the rubber for SEMO, his record 12.14 strikeouts per nine
innings, as well as his feat of leading the team in ERA, innings
pitched, strikeouts, and wins in back to back seasons, as he is still
the only pitcher in school history to accomplish that.
McSpadden lettered four times for the Indians from
1971-1974. He still ranks in the top 10 of nine different single season
school records including his 1.47 ERA in 1973 and his 1.53 mark in 1974,
which rank 4th and 5th respectively. Impressive enough numbers by
themselves, McSpadden still laughs when he recalls the dimensions of his
home stadium in Cape Girardeau "I'll never forget those numbers"
McSpadden said. "305 and 307 down the lines and 350 to center field" he
continued. Just a bit different than the pitcher friendly 315, 335, and
400 foot dimensions at the renovated park of today. McSpadden won 18
games with the Indians, a number that doesn't standout until you realize
that SEMO played just 91 games total during his four years with the
team.
Following his career with SEMO McSpadden was selected in
the 6th round of the MLB draft by the San Diego Padres, still the
highest selection of any player in school history. McSpadden played
five seasons with the Padres and looked to be on track for the San Diego
rotation before injuries derailed a promising career. Through twists
and turns he ended up in Liberal, Kansas where he had played his summer
ball for the Liberal BeeJays. McSpadden was hired as the baseball coach
at Seward County Community College and eventually was named the Athletic
Director for the Saints. 32 years and 1,065 wins later, McSpadden
still draws up the lineup for the green and white in the Spring. He has
been inducted into the NJCAA, Kansas Baseball, and Seward County
Athletics Halls of Fame which makes Southeast Missouri State his fourth
call to the hall.
The 11th Hall of Fame class at Southeast Missouri State
is comprised of McSpadden as well as Ron and Mary Hines, Jim Hamby,
Christine Ridenour, Beverly Slaughter, and the school's only NCAA
Basketball Tournament team from 1999-2000. The Hall of Fame dinner and
ceremony will take place on February 8th at the Show Me Center and is
open to the public. On February 9th the inductees will be recognized at
the half of SEMO's basketball game against Eastern Illinois.
When asked what the induction meant to him, McSpadden
said "to be able to go back to a place where it all began, the place
that set the path for my life, and be a part of something like the Hall
of Fame is truly humbling. I am very excited to be able to go back and
share this moment with my family, all of whom had a part in me receiving
this honor today."