Seward's Dodge City Streak Ends
Brock Kappelmann - January 29, 2023 9:00 am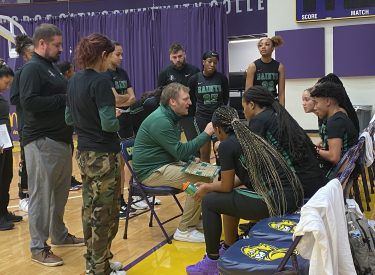 After 32 wins in a row covering 17 years, Dodge City has defeated Seward in women's basketball.  In a unique circumstance, the #12 and first place Lady Conqs topped Seward 75-64 Saturday afternoon at the Dome in Dodge City for their 12th straight win.  Seward handed DC3 their only conference loss on November 26.
The Lady Saints got off to a dreadful start trailing 14-2 and 17-4 before Dodge led 22-6 after one quarter.   Seward did what Seward does, they used their high pressure run and jump defense to rally and pull to within nine ad 32-23 with 1:10 remaining.  The Lady Conqs led 36-25 at the half.  Dodge controlled the third quarter and led 56-41 after three.  Seward cut into the lead in the fourth quarter and made it 66-61 with 2:02 to play and 67-62 with 1:15 to play.
SCCC endured an abysmal shooting day at the Dome in Dodge.  Seward shot 25 percent from the field and 5-25 from three.  They stayed in the game on defense and at the foul line as they were 31-40 at the foul line.  Seward held the top shooting team in the KJCCC to 35 percent shooting.  DC3 made 8-28 from three and 27-36 at the foul line.  Dodge City out rebounded Seward 43-35.
Halima Salat scored 17 and De'Shawnti Thomas had 10 points and eight rebounds.
Seward is 11-11 overall and 9-7 in the Jayhawk Conference.  Dodge City is 19-2 and 14-1 in the Jayhawk.  Seward hosts Cloud Wednesday night at 6pm in the Green House.  Saints Shoot-around at 5:45 on 107.5.  Pizza Hut is the buyout sponsor.