Seward Wraps Up Home Season with Hutch
Brock Kappelmann - April 28, 2022 6:38 am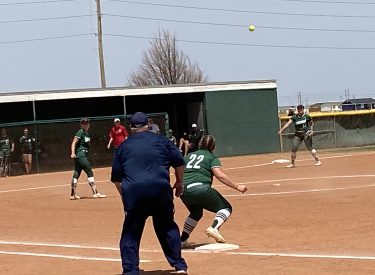 On a warm breezy day with temperatures in the mid 80's, the Seward softball team wrapped up their home season Wednesday.  The #15 Hutchinson Blue Dragons came to town and swept the Saints 4-0 and 7-6.
In game one, Hutch scored two in the first, one in the fifth, and one in the sixth.  The Dragons out-hit the Saints 8-4.  Ireland Caro pitched the distance allowing one earned run.
Seward had a rally up their sleeves in game two.  The Blue Dragons got off to a good start with four in the third.  SCCC responded with four in the bottom of the fourth.  Hutch scored runs in the fifth and sixth to lead 6-4.  Seward plated two in the bottom of the sixth to tie the game at 6-6.  Hutchinson scored in the seventh and held on to win 7-6.  Hutch out-hit SCCC 10-9 and Seward committed the game's only three errors.  Beth Denney was 2-4 with a double and three RBI's.  Maddy Pack was 2-4.
Seward is 23-23 overall and 14-16 and in fifth place in the Jayhawk West.  Seward finishes 13-13 at French Family Field.  Hutchinson is 36-6 overall and 27-3 in the Jayhawk West.  Seward plays two at Colby at 2pm on Saturday.