Seward Women's Tennis Enjoys Winning Weekend
Joe Denoyer - February 12, 2018 1:10 pm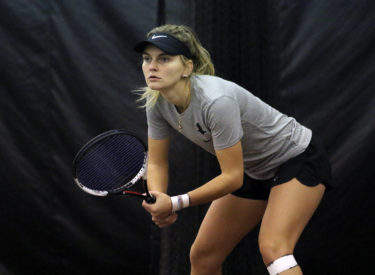 By Nacole Miller, Seward County Sports Information
PLANO, TX – With an undefeated Spring record so far, the Lady Saints continued the their winning streak against Central Alabama. The Lady Saints tennis team played at the Collin County Super Bash in Plano, Texas and on Friday and faced Central Alabama Community College. The Lady Saints were also scheduled to play two matches on Saturday against St. Petersburg College and North Central Texas College, but unfortunately those matches were cancelled due to weather.
Starting out with doubles, No.2 Stephany Bermundez and Maria Aveiga started the match with a win 8-3 leading the Saints in the right direction. Next, No.1 Patricia Panta and Alena Macharova defeated Ashley Coots and Maggie Blackwell 8-2. To finish doubles, Megan Petr and Yusra Hegy had a back and forth match but eventually lost to Kristina LaBoone and Abby Hayes 4-8 making it 2-1 Lady Saints leading going into singles.
The start of singles play the Lady Saints were motivated to take care of business. "The ladies came out with a lot of energy and took care of business," assistant coach Lachmond Bratton shared. First to finish was No.3 Bermundez who had a clean sweep 6-0, 6-0 against Olivia Hayes, really showing that the Lady Saints mean business. No.2 Macharova and No.1 Panta weren't far behind each other finishing their matches with wins of 6-2, 6-0 for Macharova and 6-0, 6-2 for Panta.
No.5 Hegy was next to finish getting a win against Kristina LaBoone 7-6, 6-2. Finishing up the match No.6 Petr and No.4 Martina Borges got the last two wins defeating their opponents Abby Hayes and Morgan Bishop. Petr won 6-4, 6-3 and Borges won 6-3, 6-4.
Head coach Chase Ashley shared, "I really liked the energy the ladies came out with and sustained throughout the match. What I love about this win is that every person on the team had an impact today. It's a confidence builder going forward."
The Lady Saints Saturday matches were cancelled due to weather making their weekend short but successful. The ladies are now 3-0 for the season and 22-5 for their individual record. The next match for the Ladies will be this weekend, Friday the 16th, against Newman University in Wichita, Kansas.
[cid:[email protected]]
Ian Applegate