Seward Women in 4th After Day 1 at Nationals
KSCB News - May 6, 2014 6:38 am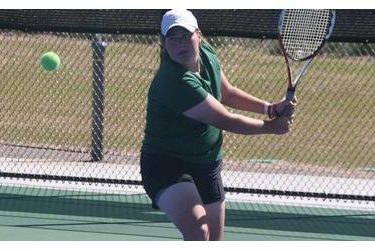 Following a four win day on the opening day of the 2014 NJCAA National Tennis Tournament in Tyler, Texas, the Seward County Lady Saints sit in a six way tie for 4th place at days end.
In the tournament's top draw, Seward's Paula Coyos drew the #6 seed and played to seed with an easy 6-2, 6-0 win over Lamborghina Robinson of Jacksonville to give Seward their first point of the tournament. On Monday Lopez will get a little bit tougher of a task as she takes on Georgie Gosen of North Central Texas with a berth in the quarterfinals on the line.
Seward's Paula Coyos also drew a seed in #2 singles where she opens the tournament at #5. She had no trouble at all in her first match, blowing away Alexandria Rodriguez of North Central Texas 6-0, 6-0 to advance to the second round. Coyos will look to continue her roll Monday with an early morning matchup with Rachel Farmer of Snead State.
Kathryn Roohan gave the Lady Saints their biggest point of the day as she put Helena Meyer of Pima away 6-1, 7-6 (4) in #3 singles to put Seward at a perfect 3-0 to that point in the day. Monday she will play David in a battle with Goliath as she goes up against 2nd seeded Ashleigh De Wet of Tyler.
The Lady Saints didn't have as much luck at the bottom of their lineup and it started at #4 singles where Seward's Jackie Arnold had trouble ever getting going as she fell swiftly 6-1, 6-0 to Lauren Clark of Collin County to fall to the consolation bracket. Arnold will be idle until Tuesday when she plays Claudia Macka of Moraine Valley in the consolation quarters.
Seward's struggles continued at #5 singles where Naomie Bukassa was blanked 6-0 in her first set against Maria Morales of Elgin before battling back to make a go of the second set but dropping it 6-4 to fall to the consolation bracket. Bukassa will look to keep her tournament alive on Monday as she plays Kindra Holliday of Eastern Arizona.
Due to an illness, the Lady Saints will not have a representative at #6 singles in the tournament.
The Lady Saints best chance for a title in the tournament comes at #1 doubles where Lopez and Coyos have drawn the #2 overall seed for the bracket. They took on Mississippi Gulf Coast in the first round Sunday, but faced little resistance in a 6-2, 6-1 win. The win moves the pair to the second round where they will take on Gosen and Rodriguez of North Central Texas on Monday.
Arnold and Roohan were matched up with Katy Foster and Amy Leiu of North Central Texas in the first round of the #2 doubles bracket and struggled in the dual. The Lady Lions hammered Arnold and Roohan, winning 6-1, 6-1 in straight sets to drop the Seward pair to the consolation bracket of the tournament. In the consolation second round they will play at 6:30 Monday against an opponent to be announced.
Again due to an illness, Seward will not compete in #3 doubles.
COMPLETE 2014 NJCAA NATIONAL TOURNAMENT RESULTS<http://www.apacheathletics.com/f/NJCAA_D1_Womens_Tennis_National_Tournament_Schedule_and_Results.php>
Roy Allen