Seward Women Fall to #18 Cowley
Brock Kappelmann - August 31, 2023 6:29 am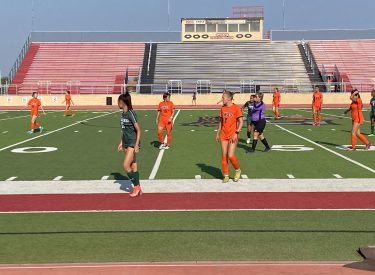 Jay Daubenberger
Liberal, KAN. – For the second straight game the Seward County women's soccer team faced off against the #18 team in the NJCAA, first facing #18 Hutchinson on Saturday and now facing #18 Cowley on Wednesday where unfortunately the Lady Saints were unable to cage the Tigers as Cowley took the victory 2-0 over Seward County.
The Lady Saints held their own for the first twenty minutes of action in the first half against the Tigers until Cowley was able to sneak in their first goal of the game and later scored their second a few minutes later at the 18:45 mark of the half.
Although they were down 2-0 at halftime, the Lady Saints remained strong and held the Tigers scoreless in the second half with hard fought defense and multiple key saves from freshman goalkeeper Sydney Williams. Despite hard fought defense from Seward County, they were unable to create any key offensive momentum and fell 2-0 to Cowley.
The Lady Saints now fall to 0-3 on their inaugural season and 0-3 in KJCCC play. They will look to turn the tide next Wednesday as they head back on the road to take on Garden City at 4:00 PM at Broncbuster Stadium.