Seward Women Begin NJCAA Play in Mesa
Brock Kappelmann - May 1, 2021 7:25 am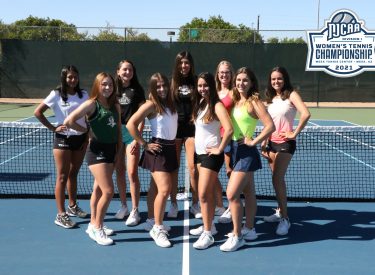 Kenny Hernandez
MESA, Ari. – The Seward County Community College Women's Tennis team will compete in the 2021 NJCAA National Tournament in Mesa, Arizona starting on May 1st until May 5th if more matches are needed. The Saints will have six student-athletes in the singles draws and three teams in the doubles draw.
The first matches are scheduled for Saturday, May 1st at the Mesa Tennis Center at Gene Autry Park and will begin with singles draws at 7:30 AM PST followed by the doubles draws in the afternoon. Each individual will compete for points that will get added to their team's total. A first-round victory is worth two points for their team and every win after that will be one point additionally for the team's overall total.
If an individual loses their first-round game they will be placed into the consolation bracket and every win in that bracket will be only .5 points for their team. If the individual wins their first but loses in the next round they will, unfortunately, be eliminated from the tournament.
The first round will begin tomorrow with the Saints No. 2 Lucia Popluharva at 9 AM PST followed by No. 6 Saskia Vogelzang competing at 12 PM PST. The final match for Seward will be the Saints No. 1 doubles team Justine Lespes and Chiara Matteodo to play at 1 PM PST.
The rest of the lineup for Seward County will compete on Sunday as they received a first-round bye. Justine Lespes will compete in the No. 1 draw, Chiara Matteodo will compete at No. 3 singles, Maria Garcia will be in the No. 4 draws, Lorena Torrico will compete in the No. 5 draw. For doubles, Lucia Popluharva and Maria Garcia will be in the No. 2 draw and Saskia Vogelzang and Lorena Torrico will be in the No. 3 draw.
For the complete brackets follow the link below and for updated scores and results follow SewardSaints on social media.