Seward Wins 60th in a Row in the Green House
Brock Kappelmann - January 23, 2020 6:25 am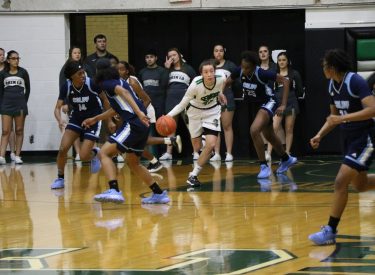 Kenny Hernandez
LIBERAL, Kan.- Leilani Augmon led all scorers with 20 points and an efficient 8-9 from the field. This helped No. 12 Seward County Community College to a 90-51 victory over Colby Community College and gives the Lady Saints a 16-3 overall record and a perfect 11-0 in Conference. Also gives the program their 60th win in a row in the Greenhouse that stretches back to the 2015-2016 season.
Lady Saints would jump out to a 22-6 lead after the first quarter, as they establish their own pace early against the Trojans. Colby responded in the second quarter with a 14-4 run to cut the lead down to a 26-20 Lady Saints lead. This is as close the Trojans would be to the Lady Saints for the remainder of the game. Augmon sent the Seward into the locker rooms with a putback lay-up on the left block to give the Lady Saints 33-23 at the half.
The third quarter the Lady Saints would be able to once again turn their defense into offense with steals and quick transition baskets. Seward jumped up to a 49-30 lead with a Tianna Johnson transition lay-up after a Vanda Cuamba block that started the fast break. The Lady Saints outscored the Trojans 30-14, to take a 63-37 lead into the fourth quarter.
The Lady Saints continued their momentum from the third quarter and kept the Trojans from establishing an offensive flow. With a coast to coast lay-up by Kamry Perez Seward extended their lead to 74-39 with 4:22 left in the game. The Lady Saints outscored the Trojans 27-14 in the final frame to claim their 60th win in a row at home.
Colby was led by Estrella Avalos with 15 points off the bench and a perfect 2-2 from behind the three-point line. As a team, the Trojans shot 32.1% from the field and 33.3% from the perimeter.
Seward was led by Augmon's 20 points, three rebounds, and two assists. Johnson added 18 points with five assists and Karolina Szydlowska had 14 points on 5-7 from the field.
Lady Saints are at Barton Community College on Saturday and will tip-off at 5:30 PM. For the live broadcast and audio head to sewardsaints.com