Seward Volleyball Wins Academic Award Fourth Straight Year
KSCB News - July 22, 2010 12:00 am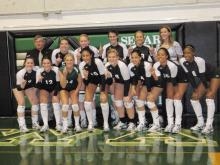 For the fourth straight year, Bert Luallen's Seward
County Lady Saints Volleyball team has been awarded the AVCA Team
Academic Award. This season the Lady Saint join a record crowd of over
450 different men's and women's high school, junior college, NCAA, and
NAIA volleyball teams to be given the award. However, the Lady Saints
are one of just eight teams at the two-year college level to be given
the award.
The award, which was initiated in the 1992-93 academic
year, honors collegiate and high school volleyball teams that displayed
excellence in the classroom during the school year by maintaining at
least a 3.30 cumulative team grade-point average on a 4.0 scale or a
4.10 cumulative team GPA on a 5.0 scale.
The Lady Saint stand in elite company with the award
this season with only seven other schools in their class. Allen County
and Dodge City were the only other two Jayhawk schools to earn the award
with the other five schools being Dawson CC (Mont.), Linn-Benton CC
(Oreg.), North Platte CC (Nebr.), Northeastern JC (Colo.), and Redlands
CC (Okla.).
"There is no better way to gauge the success of a sport
than to track the accomplishments of the people who participate," said
AVCA Executive Director Kathy DeBoer. "Each of these 450 teams
represents 12-15 really smart kids. What a great day for the sport of
volleyball" she continued.