Seward Volleyball Opens with a Win Over Independence
Brock Kappelmann - January 29, 2021 6:31 am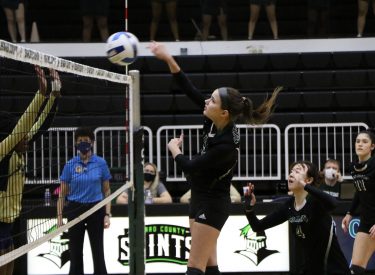 Kenny Hernandez
LIBERAL, Kan. – Seward County Community College volleyball program opened the 2021 season with a home 3-0 victory over Independence Community college on Wednesday night. The third-ranked Lady Saints waited since the 2019 national championship match to get back in a match. After over a year of wait, they looked eager for another successful season.
Seward County completed the sweep in the Greenhouse, 25-9, 25-9, 25-15, on Thursday. With the victory, the Lady Saints extend their conference winning streak to 56 regular-season conference wins.
Seward jumped out to a quick to a 14-4 lead and the pirates had to use a timeout to get things back in order. Yunju Lee was in control of the offense with multiple options she was able to share the ball effectively to the pins, middle or back row. The pirates were unable to keep up with the Lady Saints' offensive power and eventually to the first set 25-7.
The second set was very similar to the first as Seward County jumped out to an early 10-4 lead. This set consisted of longer rallies, but the Lady Saints found opportunities to put the ball away. They finished the second set with a 25-9 final score.
In the third set Coach Geno Frugoli mixed in new line-ups and players to get a feel for how they play together. The Pirates battled in the 3rd set but the Lady Saints ran away with a 25-15 final set and match victory.
Lady Saints Gabriela Badilla led the match in kills with 15 on 30 attempts and the setter Yunju Lee had a match-high of 17 assists.
Seward County immediately got on the bus and will face the second-ranked Snow College in Sterling, Colorado tomorrow (January 29th,2021) at 1:30 PM CT.