Seward Volleyball Goes 1-1 Friday at NJCAA Tournament to Finish Season
Brock Kappelmann - November 19, 2022 7:14 am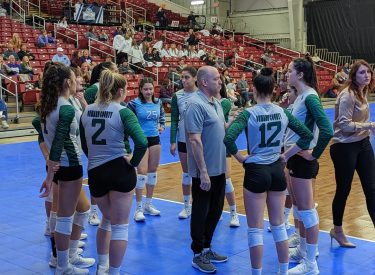 The Seward County volleyball team didn't leave West Plains, Missouri empty handed.  Seward beat Eastern Arizona Friday morning 3-0 before losing to New Mexico Military Friday evening 3-1.  The Saints go 1-2 at the NJCAA Tournament.
Seward dominated Eastern Arizona 25-15, 26-24, 25-22.  Seyun Park took over registering 23 kills.  Sarah Cruz added 11 kills.  Rafaela DaSilva had 41 assists and seven digs.  Michell Jerez had 16 digs.  Jessica Sales and Logan Dodge had two aces a piece.
Seward started strongly but lost the NMMI 25-14, 28-30, 22-25, 16-25.  Seyun Park had 16 kills and Sarah Cruz had 11 while Jessica Sales registered nine kills.  Sales and Logan Dodge had three aces a piece.  Michell Jerez had 28 digs and Rafaela DaSilva had 37 assists.
Seward finishes 31-8 and won the Jayhawk and the Region 6 in 2022.