Seward Trio Set for ITA Nationals in Georgia
Brock Kappelmann - October 14, 2021 7:26 am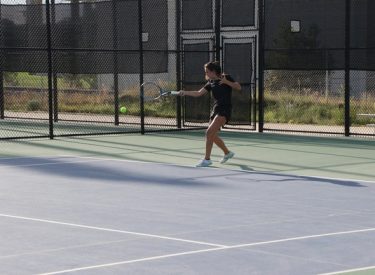 Rome, GA – Seward County Community College Men's and Women's tennis programs will compete this week at the ITA National tournament in Rome Georgia. The Saints will compete on October 14th until the 17th for a chance at a Junior College National Championship and the winners will compete in the NCAA D1 tournament in California. This will be the first ITA National tournament since the fall of 2019, where the Saints won the Men's singles tournament with Gabriel Gonzalez.
Karlo Krolo and Luciano Fisicaro will compete in the Men's Junior College doubles draw and enters the draw as the number two seed. Krolo and Fisicaro will compete against Ching and Shteyn from Collin College. Ching and Shteyn lost last weekend against Seward County's second doubles team in Martins Abamu and Killian Savary. The first-round match is scheduled for 3:30 PM at the Rome Tennis Center (RTC) and the winner will compete on Friday at 3:30 PM.
Justine Lespes will compete in the Women's Junior College singles draw and is the number three seed in the draw. Lespes will compete against Jou Chen Chen from Abraham Baldwin Agricultural College on Thursday at 11:30 AM at the RTC. The winner will move on to the second round with the match set to start at 12 PM.
Men's Doubles Draw ITA Nationals 2021