Seward Tops Colby in Region Semis
Brock Kappelmann - April 2, 2021 4:12 pm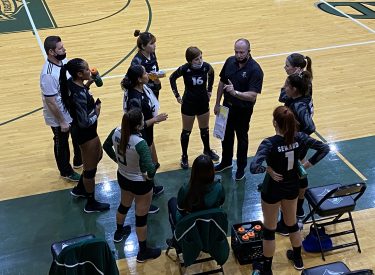 The Lady Saints and the Trojans started the first set with a battle to gain control of the set. Colby matched Seward County at 19 all late in the first set that forced Coach Geno Frugoli to take a timeout and get the Lady Saints back on track. After the timeout, Seward County went on a 6-2 run to close out the first set and to lead the Trojans one set to zero.
Seward County separated themselves from the Trojans early in the second set with a 5-0 run to take a 9-4 lead. This separation continued to grow throughout the set with the Lady Saints having their largest lead of the set 21-12 after a kill by Ana Brangioni. Colby continued to fight but the lead set by Seward County was too much as the Lady Saints went on to win the second set 25-16.
In the third set, Seward County kept its momentum and had a 10-5 lead to start the set. The Trojans responded with a 6-3 run and trailed the Lady Saints by two points at 13-11. Seward County proceeded with a 5-2 run of their own to regain an 18-13 advantage over Colby. The Lady Saints had three match points with a 24-17 lead but the Trojans once again came out looking to climb back into it but it was too late as Seward County took the set 25-20.
Seward County was paced by Gabriela Badilla with 9 kills and a hitting percentage of .471. Seyun Park added eight kills, Ariana Arciniega had seven kills, and Ileim Terrero had five kills.
The Lady Saints will compete for the Region VI Championship for the fifth year in a row at 6 pm tonight with their opponent to be determined