Seward Tops #8 Northeastern and #12 Eastern Wyoming in McCook
Brock Kappelmann - February 8, 2021 6:47 am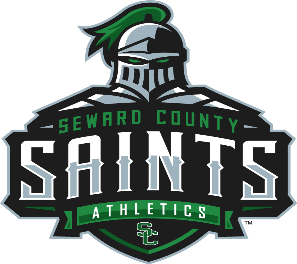 Kenny Hernandez
McCook, Neb. – Seward County community College volleyball program finished the McCook Invitational on Saturday (February 7th, 2021) first with a 3-2 win over No. 8 Northeastern Junior college and ended the weekend sweep with a 3-0 victory over No. 12 Eastern Wyoming College. No. 10 Lady Saints closed the weekend with two top 12 wins and extend their winning streak to 6 matches.
Seward had a rematch to start day two against Northeastern, who previously swept the Lady Saints less than a week prior. The Lady Saints lost the first two sets 25-22 and 25-18 to Northeastern but that was all they would get. Seward responded with a groundout fourth set win 25-23.
The third set was controlled by the Lady Saints and tied the match at two sets apiece with a final score of 25-19. Northeastern jumped out to an early lead in the fifth set but after a timeout by Head Coach Geno Frugoli the Lady Saints responded and kept up with the Plainsmen. With a final set score of 16-14, Seward was able to get the victory and move on to 7-3 on the season
In the last match of the weekend, Seward faced the No. 12 Lancers and held on for a first set win 25-20. The Lady Saints kept on cruise control in the second set with a 25-15 set lead. In the third set, the Lancers jumped up early with a 16-9 advantage over the Lady Saints. Seward went on a 9-2 run to tie the set at 18 and led to a third set victory 25-23 and improved to 8-3 on the season.
Seward will be back in action on Thursday (February 11th, 2021) at Butler Community College. For game day information and updates go to sewardsaints.com.