Seward Tennis Takes Care of Tabor
KSCB News - March 23, 2015 6:27 am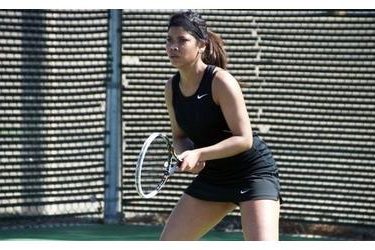 It is beginning to get tough for the Seward County Saints not to start looking forward to the big prize at the end of the year. After all, the Saints just jumped in the ITA National Rankings to #3, the programs highest ranking in school history, and Saturday they continued to have little resistance from their opposition, dropping just five total games in nine matches, annihilating visiting Tabor 9-0 to remain undefeated on the year at 5-0.
Doubles play kicked off the afternoon on a glorious day at Blue Bonnet Park in Liberal. Seward flexed their muscles early and often as Ronzai Saurombe and Vitor Galvao had no problem in #1 doubles, winning 8-0 while Tare Mariga and Paul Arslanian did the same at #3 to put the Saints on top 2-0. In #2 doubles it was Felipe Casares and Alvaro Regnifo teaming up to take down Harrison Faber and Stephen Wilson 8-2 in what at the end of the day would be the closest match of the dual.
Seward's dominance continued in singles action as Regnifo, Mariga, and Arslanian all won 6-0, 6-0 at #3, #5, and #6 singles respectively to seal the team win for the Saints. 10th ranked Saurombe downed Luis Navarette 6-0, 6-1 at #1 singles and 14th ranked Galvao did the same to Faber at #2 singles to make it 8-0 Saints. In #4 singles Casares, ranked 31st in the latest ITA Rankings, beat Wilson 6-0, 6-1 as well to wrap up the sweep for the Saints.
Seward took the dual 9-0 to improve to 5-0 on the year, its third straight sweep, all over four year competition. The Saints individual records improve to 39-6 on the season.
The Saints will take on their first NJCAA competition this week as they face Jayhawk rivals Barton and Cowley on the road Tuesday and Saturday in Great Bend and Arkansas City.
#3 SEWARD COUNTY/TABOR MATCH RESULTS<http://www.sewardsaints.com/sports/mten/2014-15/files/SewardTaborM.pdf>
Roy Allen
In what proved to be their most competitive dual match of the 2015 season, the Seward County Lady Saints grinded out a 5-4 win over visiting Tabor Saturday afternoon at the campus courts at SCCC.
Both doubles matches that were played were lopsided, one for the Lady Saints and one for the Lady BlueJays. The 2nd ranked pair in the country, Seward's Paula Lopez and Paula Coyos easily defeated Tabor's Jessica Emoto and Becky Faber in #1 doubles 8-2 to give Seward a 2-0 lead after a default point at #3 doubles. In #2 doubles it was Tabor getting the win as Heidi Kloassen and Kiana Fujioka knocked off the Lady Saints Naomie Bukassa and Kellyn Peters by a count of 8-1 to make it 2-1 Seward heading to singles.
Coyos was the first to finish singles play as she hammered Faber 6-1, 6-1 in #2 action, along with another default win for Seward at #6, got them to within one point of clinching the match. Tabor was able to collect wins at #4 and #5 singles to make the score 4-3, but Lopez overcame a slow start to beat Emoto 7-6 (8), 6-1 in #1 play to seal the deal for Seward. The match of the day came at #3 singles where Kloassen outlasted Peters in a draining 6-4, 7-5 (10) win for the Jays.
The Lady Saints taste victory for the first time since late January as they improve to 2-3 on the season with the win. Seward also inches closer to the .500 mark in their individual records as they improve to 21-24 on the year.
After playing five four year schools to start the season, the Lady Saints will get a little bit better measuring stick of where they are at against junior college competition this week as they battle Barton on Tuesday in Great Bend and Cowley in Arkansas City on Saturday.
#14 SEWARD COUNTY/TABOR MATCH RESULTS<http://www.sewardsaints.com/sports/wten/2014-15/files/SewardTaborW.pdf>
Roy Allen