Seward Tennis Moves Up to Ninth at Nationals
KSCB News - May 16, 2015 6:55 am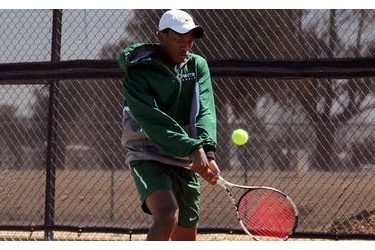 The Seward County Saints continued their assent up the leaderboard at the 2015 NJCAA National Tournament on Thursday, moving into 9th place overall as Ronzai Saurombe won the #1 singles consolation bracket and fellow countryman Tare Mariga took care of business in his #5 singles semifinal to advance to Friday's National Championship tilt.
With rain postponing matches all over the tournament earlier in the week, play in the consolation bracket hit a furious pace on Thursday as organizers tried to get things wrapped up by championship Friday. Ronzai Saurombe was busy in the #1 singles consolation bracket with three potential matches on Thursday. Saurombe's first test came against Cody Taplin of Lewis & Clark and Saurombe had little trouble with him, winning 8-2 to move onto the back draw semis. In semifinal number one he went up against Shane Trebisky of Meridian and faced his toughest test since the opening round. Saruombe prevailed though, knocking off Trebisky 8-4 to advance to the title match. In his third match of the day, Saruombe showed no tiring, easily defeating Skyler Flowers of Mississippi Gulf Coast 8-2 to claim the #1 singles consolation bracket title.
In the #2 singles consolation bracket, Vitor Galvao looked to do the same for the Saints. Galvao took down Dominick Budzik of Oakton in his quarterfinal matchup 8-2 to push him through to the semis where he faced Morgan Hale of Marion Military. Galvao had somewhat of a tougher time against Hale, but in the end, he painted it green, winning 8-4 to advance to Friday's consolation bracket championship match against Christian DeLa Cruz of Elgin.
Alvaro Rengifo will certainly not have fond memories of his first NJCAA National Tournament experience as after losing his opening round match and being sent to the consolation bracket, the Spaniard fell 8-2 in his first match there to Jose De Sario of Laredo to end his tournament 0-2 at #3 singles.
Tare Mariga was one of two Saints still alive in the championship bracket on Thursday as he took on the field at #5 singles. Mariga had no trouble in his national semifinal, whipping Nate Palmer of Abraham Baldwin 6-3, 6-1 in straight sets to advance to the National Championship match Friday morning against top seeded Shaquille Taylor of ASA.
The other Saint still battling for a title was Paul Arslanian at #6 singles. Arslanian drew the tough task of going up against #1 seeded Logan Powell of Tyler in his semifinal match, but he was unfazed in the first set, winning 6-4 to take the early lead. Arslanian had a chance to win the match in the second set, but Powell came back to win a close one 7-5 and the Apaches star used the momentum for a 6-2 third set win to take the match 2-1. Arslanian finishes his final NJCAA National Tournament 3rd.
Seward only had one doubles squad left going on day four of the tournament and that was at #3 where Arslanian and Mariga teamed for the Saints. They had no trouble in their first consolation bracket match, easily defeating Hernandez/Waynick of Elgin 8-0 to move on to the next round. In the quarterfinals they went up against Melton/Taplin of Lewis & Clark and pushed past them 8-4 to advance to the semis. In their third doubles match of the day they didn't tire, breezing past Filp/Morales of Oakton 8-0 to get to the consolation bracket title match Friday morning at 11:00 where they will take on Bell/Dishman of Seminole State.
The Saints climbed one spot in the standings with their five point day on Thursday. Seward now sits 9th overall and is just one point behind Cowley and Vincennes for 7th place with 22 points. ASA stretched their tournament lead to four with 44 total points while Tyler is second with 40 and Abraham Baldwin a distant third with 33.
For live updates from the final day of action at the tournament CLICK HERE<http://tennislink.usta.com/Tournaments/TournamentHome/Tournament.aspx?T=169284> for the official tournament homepage.
Roy Allen