Seward Tennis Dominates Kansas Weslyan in Cowley Tuneup
KSCB News - March 26, 2016 6:47 am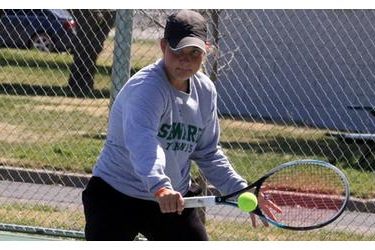 The Seward County Saints had little trouble with visiting Kansas Wesleyan Friday afternoon at Blue Bonnet Park in Liberal, putting it to the Coyotes to the tune of a 9-0 beating to improve to 12-0 on the year and setup a huge Monday showdown with Jayhawk Conference rival Cowley.
Seward got their first point of the day at #3 doubles where Felipe Casares and Tare Mariga earned an 8-1 win. The other two doubles spots were much more contested where the Saints had to squeeze out 8-6 wins to hold a 3-0 advantage into singles action.
In singles play the Saints had much less trouble. From the top down it was all green and white in the individual battles. Carlos Anez won a 6-3, 6-0 decision at the top spot while Przemek Zielinski won 6-2, 6-3 at #2. Ondrej Nice put matching 6-2 scores on Michael Moody at #3 and Alvaro Rengifo won an 8-3 superset at #4 in the duals final match. Tare Mariga and Zach Suico both earned 6-1 first set wins at #5 and #6 before the pair picked up 6-2 and 6-4 wins respectively to sweep their matches and give Seward a 9-0 blanking of the Coyotes.
The Saints improve to 12-0 on the year with the win and push their individual match record in 2016 to an almost unbelievable 100-8. Kansas Wesleyan takes a step back to 4-2 on the spring.
#4 Seward will take the court again on Monday in their biggest match to date when they host #7 Cowley in a huge Jayhawk Conference tussle at Blue Bonnet Park in Liberal. The Saints and Tigers will get things underway at 10:00 AM.
#4 SEWARD COUNTY/KANSAS WESLEYAN MATCH RESULTS<http://www.sewardsaints.com/sports/mten/2015-16/files/SewardKWM2016.pdf>
Despite holding out half of their normal starting lineup, the #4 Seward County Lady Saints still cruised to a win Friday afternoon at Blue Bonnet Park in Liberal, downing visiting Kansas Wesleyan 8-1 to setup a showdown with the rival Cowley Tigers in just two days in Liberal.
Seward dominated doubles play Friday, getting 8-1 wins at all three spots to jump ahead 3-0 in the match. Playing without three of their normal six singles players, the Lady Saints continued to breeze past the Coyotes in singles action as well. Yennifer Delgado, Alba Payeras, and Crizta Goslin won at #4, #5, and #6 losing just one game between the three to put Seward in front 6-0. Madison Hoelting won by matching 6-2 scores at #3 while Tadi Mrewa won a hard fought battle at #2, 6-2, 4-6, 10-5 to give the Lady Saints their eighth win of the match. Kansas Wesleyan's only win of the dual came at #1 where Seward's usual #4 player Nthabi Mogopodi went toe to toe with the Coyotes top player in Drujdjina Vrhovac, but eventually fell 2-6, 6-2, 10-4.
The Lady Saints won the match 8-1 to improve to 15-0 on the year while Kansas Wesleyan falls to 1-5.
The win for the Lady Saints sets up a showdown with Jayhawk Conference rival Cowley on Monday morning at 10:00 at Blue Bonnet Park. Seward enters ranked #4 in the country while the Tigers will come to down with a #9 ranking next to their name.
#4 SEWARD COUNTY/KANSAS WESLEYAN MATCH RESULTS<http://www.sewardsaints.com/sports/wten/2015-16/files/SewardKansasWesleyanGameNotes.pdf>