Seward Tennis Beats Cowley on the Road
Brock Kappelmann - March 26, 2019 6:48 am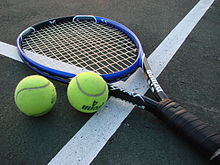 MEN'S TENNIS
ARKANSAS CITY, Kan. – The third-ranked Seward County Community College men's tennis team posted a victory over No. 7 Cowley College, 7-2, on Sunday. The Saints have won their last four matches and improved to 8-4.
The Saints started out strong, earning three points with a sweep in doubles. The matches could have gone either way, but Seward prevailed. No. 1 Gabe Nery and Sander Jans beat Angelo Tost and Bruno Suiama, No. 2 Carlo Izurieta and Francisco Vargas defeated Killian Dagneaux and Nicolas Mougaillard and No. 3 Nic Rousset and Nyathi Motlojoa knocked off Valter Oshiro and Casey Edwards. All three matches went 9-8.
On the singles side, Nery fell to Suiama, 4-6, 3-6 to give the Tigers a point, but Rousset, Vargas and Jans won their matches to give Seward the win. No. 1 Rousset beat Tost 6-4, 6-2, No. 3 Vargas bested Mougaillard, 6-2, 6-2 and No. 4 Jans battled back to beat Oshiro, 3-6, 7-6, 10-5.
In the other singles matches, Izurieta downed Dagneaux, 6-4, 6-4 and Franck Soulerot lost to Moises Goncalves, 2-6, 1-6.
WOMEN'S TENNIS
ARKANSAS CITY, KAN. – The seventh-ranked Seward County Community College women's tennis team came away with 6-3 victory over No. 8 Cowley College on Sunday. The Lady Saints have won four straight matches and improved to 8-3.
The teams split the first two doubles matches with No. 3 Alisa Handrugan and Eva Liu beating Margot Fontaine and Coraline Lamer, 8-6, and No. 2 Alena Macharova and Sofia Belluco falling to Mariana Rodriguez and Aletta Macheli, 3-8. The Lady Saints took a 2-1 lead when it captured the third point behind No. 1 Patricia Panta and Maria Aveiga, who beat Takalani Molaoa and Georgina Kaindoah, 8-5.
The Tigers evened it up at the start of singles competition when No. 5 Alisa Handrugan lost to Fontaine, 2-6, 3-6. Seward captured the next four matches to take an insurmountable 6-2 advantage. No. 1 Panta beat Molaoa, 6-2, 6-4, No. 2 Aveiga defeated Allana Molnar 6-4, 6-1, No. 3 Macharova downed Macheli, 6-2, 6-0 and No. 4 Belluco knocked off Kaindoah, 6-3, 7-6. Cowley took the final point when Eva Liu fell to Lamer, 3-6, 1-6.