Seward Sweeps Thunderbirds
Brock Kappelmann - September 9, 2021 6:30 am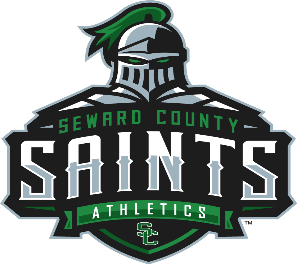 Kenny Hernandez
CONCORDIA, Kan. – The Seward County Community College Volleyball team defeats Cloud County Community College in straight sets 25-19, 25-20, and 25-19. The No. 9 Lady Saints are now 8-2 overall and 2-0 in conference play. Their next match will be on Monday, September 13th at Barton Community College with the match set to start at 6:30 PM.
In the first set, Seward County came out to a 13-6 advantage and went on to win the next four points off of Seyun Park's serve to lead 17-6. The Thunderbirds start to cut into the Lady Saints lead with four straight points of their own but Seward still led 23-17. Sarah Cruz connected on a kill from the outside pin to win the set 25-19 over the Thunderbirds.
Seward County found themselves in a battle early in the second set but led 6-5 after a missed block at the net by the Thunderbirds. Seward County went on a 6-2 run to separate themselves at 16-11 over Cloud County after a rally of kills by the Lady Saints outside hitters. Skylar Wyllie connected on a kill in the middle to propel the Lady Saints to a 19-13 advantage. After another late surge by Cloud County found themselves down 22-19. Seward County closed the set on a 3-1 run to win the second set 25-20.
In the final set, Cloud County came out to their largest lead of the match 5-1 over Seward County. The Lady Saints gained the lead after a Gabriela Badilla kill from the outside to give Seward County a 10-9 advantage. With the momentum shifted back to the Lady Saints they took another substantial lead 16-11 over the Thunderbirds. Cruz closed out the match with a kill to win the third set 25-19.
Seward County remains tied with Butler Community College in the Jayhawk West with a 2-0 conference record. The Lady Saints will face off against last year's Region VI Champions Barton Cougars on Monday, September 13th in Great Bend, Kansas.