Seward Sweeps Pratt
Brock Kappelmann - March 28, 2021 8:36 am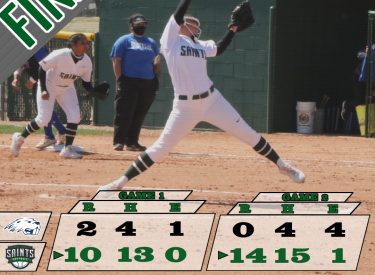 Playing at home for the second time this season, the Seward softball team took two over Pratt 10-2 and 14-0 Saturday afternoon at French Family Field.
In game one, both teams scored two runs.  SCCC pitcher Ireland Caro settled down after that and didn't allow another run.  Caro only allowed four hits.  Seward scored two in the fourth to lead 4-2 and poured it on late with six in the fifth for the run rule win.  Melissa Crisanti, Alyssah Pontoja, and Ashley Low all hit home runs.  Crisanti added a triple.
Game two also went just five innings due to run rule.  The Saints scored three in the first, seven in the second, and four in the third.  Ashley Low was 4-4.   Macy Cesa-Spearman and Jaci Oakley drove home three runs a piece.  Alyssah Pontoja pitched all five shutout innings and allowed just four hits.
Seward is 5-3 in the Jayhawk West and 6-8 overall.  Pratt is 0-6 in the KJCCC East and 4-23 overall.  Seward hosts 10-8 Independence Monday at 1 at French Family Field.