Seward Sweeps Otero
Brock Kappelmann - September 21, 2021 10:11 am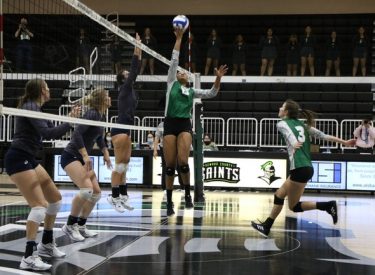 LIBERAL, Kan. – Seward County Community College defeats Otero Junior College in straight sets to improve to 10-3 on the season. The No. 10 Lady Saints won with final set scores 25-19, 25-20, and 25-19 over the Rattlers in the Greenhouse on Monday night. Seward County will be back in the greenhouse on Wednesday, September 22nd at 6:30 PM to take on Dodge City Community College.
To start the match the Lady Saints jumped out ahead 9-7 in the opening set. Seward County competed without their setter Berfin Mertcan and middle hitter Seyun Park. Seward County looked to their depth to carry the load and found success with their depth. The Lady Saints continued their lead late into the first set and led 19-15 over the Rattlers. Seward County went on to win the first set 25-19.
In the second set, the Lady Saints trailed early as the Rattlers took a 10-7 advantage. Seward County took the lead after a timeout from Head Coach Geno Frugoli at 12-11 over Otero. The Lady Saints led for the remainder of the second set to take a 2-0 lead with a 25-20 set score.
The third set started in a similar fashion as the second set with both teams exchanging points but the Lady Saints led 11-10. Seward County went on a nine to four-run to jump up 20-14 over Otero. The Rattlers had one last push but the Lady Saints took the set 25-19 to win the match 3-0.
The Lady Saints will be back in the Greenhouse on Wednesday night to face the Conquistadors as the team returns to conference play.