Seward Sweeps Northwest Tech
Brock Kappelmann - March 10, 2022 1:33 pm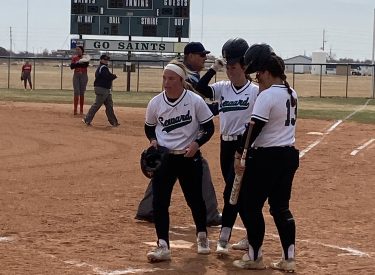 The Seward County Saints softball team took two over the Northwest Tech Mavericks on a blustery Wednesday morning at French Family Field.  Seward won 11-1 and 12-2 in a pair of five inning run rule games.  The games were moved forward to noon so the Mavericks could make it back to Goodland before a snow storm in northwest Kansas.
In game one, the Saints put up a seven spot in the seven spot in the second inning before scoring three in the third and one in the fourth.  The Mavericks scored a run without a hit.  SCCC had two errors.  Ireland Caro tossed a five inning no hitter.  Beth Denney slugged a home run to right with the wind blowing across from left to right on a grey and windy day with temperatures in the 40's and 50's.  Gabrielle Sanchez was 3-3 with four RBI's.  Sanchez hit two doubles with one triple.  Macy Cesa-Spearman was 2-4 with two RBI's and two runs.
In game two, SCCC scored two in the first and four in the second to take a 6-2 lead after two innings.  Seward put up six runs in the third to blow the game wide open.  The Saints out hit the Mavericks 13-6.  Molly Adams gained the win and pitched four innings without allowing an earned run.  Beth Denney hit another home run.  Ashley Low was 3-3.  Gabrielle Sanchez was 2-3 with three runs and three RBI's.  Beth Denney was 2-4 with three RBI's and two runs.  Madeline Pack was 2-2 with two RBI's.  Molly Adams was 2-3 with two RBI's.
Seward is 14-6 overall and 5-1 in the Jayhawk.  SCCC is tied for first with Butler.  Northwest Tech is 2-14 and 2-6 in the KJCCC.  Seward plays at Garden City Saturday at noon.