Seward Sweeps Independence
Brock Kappelmann - October 7, 2019 5:50 am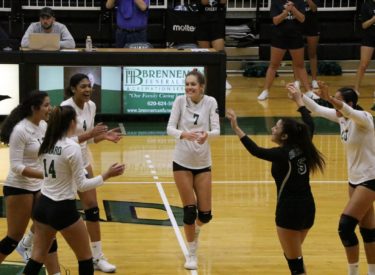 Kenny Hernandez
LIBERAL, Kan. — The fourth-ranked Seward County Community College volleyball team overcame a slow start and cruised past Independence Community College in straight sets, 25-16, 25-10, 25-12, en route to its sixth straight victory on Saturday at the Greenhouse. The Lady Saints, who have not dropped a set in conference play this season, improved to 9-0 in the Jayhawk West and 15-2 overall.
It was a sluggish start for Seward. In the opening set, the Lady Saints dropped the first three points to the Pirates, its biggest deficit of the night, before turning it around with an 8-1 run and taking an 8-4 advantage. Seward seized control and won the set, powered by NJCAA Player of the Week Yanlis Feliz with a set-high five kills. Freshman Ariana Arcinega added four kills and Thais Vieira chipped in with another three for the Lady Saints in the opener.
Seward carried its momentum into the second set, dominating from the start by opening up a 7-1 lead. The Lady Saints stretched the margin to 16-5 after Feliz served for six straight points and cruised the rest of the way in taking the set. Arcinega led the way in set two with six kills.
The third set started the same as the second set with the Lady Saints taking an early 8-1 advantage over the Pirates before extending it to 21-9 and coasting to the eventual win. Feliz paced Seward with four kills while Arcinega provided three kills of her own.
Seward returns to action on Wednesday when it hosts Hutchinson Community College at 6:30 p.m. at the Greenhouse.
Kenny Hernandez